Courtyard by Marriott Sedona is now a Certified Sustainable Business at the Conservationist/Bronze level from the Sustainability Alliance.
Sedona AZ (December 27, 2019) – It's easier to be energy efficient if your hotel is brand new. But the Courtyard Sedona also helps visitors see Sedona in a carbon-friendly way. "When guest check in, we encourage them to use our free shuttle to get around town," explains General Manager Cheryl Barron, "and we've seen great usage." Like a lot of hotels, they encourage guests to use towels and linens more than one day. Through the Marriott Green Choice program, guests can earn points or choose to plant a tree through the Arbor Day Foundation.
Not a stone was wasted during construction of the hotel. All the decorative rock for the Courtyard came from the property, and they're now doing the same conservation with the Residence Inn construction next door. The hotel won an award from Keep Sedona Beautiful for their drought-tolerant landscaping.
Sustainability is core to Courtyard Sedona operations. They use Ecolab cleaning and pest control products and the showers have dispensers rather than using hundreds of mini-bottles. Plastic straws are being phased out globally by Marriott and the kitchen is required to track food waste, which leads them to carefully design menus with items that can be used in multiple ways.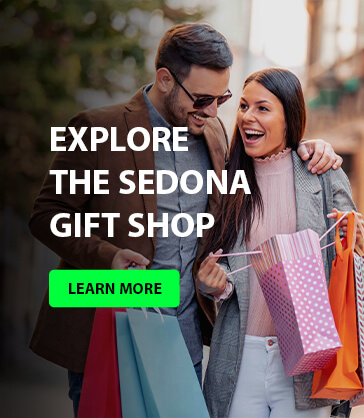 In an industry where keeping staff can be a challenge, Courtyard by Marriott emphasizes benefits and training. "Marriott believes the pathway to success for employees is through education," explains Barron, so "the company has one of the best training programs anywhere." To stay connected to the operation, Barron holds a daily "staff huddle" with everyone on shift to discuss guest needs and address any concerns. She adds, "I spend a lot of my time with my team, helping with the work, and staying tuned in to what's going on."
Courtyard by Marriott Sedona is committed to supporting the local community. For example, they designed and hosted a successful Farm to Table Expo featuring local agriculture and locally-owned restaurants. They are also active in the Sedona Chamber of Commerce and Lodging Council, and held fundraisers for the Red Rock Trail Fund and Habitat for Humanity. The hotel also encourages guests to participate in Sedona voluntourism projects as a way to give back to the community they are visiting. And the commitment doesn't end there: Barron and her team are actively expanding their community engagement activities over time. See who else is certified.