The Cactus Pad, LLC is now a Certified Sustainable Business at the Conservationist/Bronze level
Cottonwood AZ (December 20, 2019) – There has been considerable controversy around short term rentals in Arizona, but this is one you can feel good about. The Cactus Pad, LLC exemplifies the intent of the Arizona law: A small accessory dwelling or room rented out to help the homeowner earn a little cash. 
The Cactus Pad, a destination dwelling just one block off Main Street in Old Town Cottonwood, is a standalone cottage built new in 2019 on the same historic site as the home of owners Tim & Ruth Ellen Elinski. Both entrepreneurs, Tim is a seasoned licensed general contractor (who built the cottage), and Ruth Ellen is a Business Analyst with the Small Business Development Center at Yavapai College.
The cottage is energy efficient, starting from a small building footprint coupled with modern, efficient framing and insulation. LED lights and Energy Star appliances support the living space, and the heating and cooling is a mini-split system so the hosts can easily adjust temperatures when the space is vacant. The floors and countertops are poured concrete, which reduces off-gassing and provides thermal mass to help regulate the temperature. 
Reuse is a key theme of The Cactus Pad, LLC. The privacy fencing is a tapestry of corrugated steel from a historic shed which needed to be removed, and all the kitchen utensils, cookware, and accent furniture come from local vintage retail and thrift stores. "Roughly half the home accessories are reclaimed," explains Ruth Ellen Elinski, "and all interior window and door trim was repurposed from historic 100-year old, full dimension rough sawn timber likely milled right here in the Verde Valley."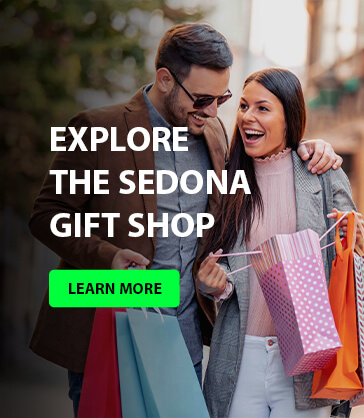 To conserve water, The Cactus Pad, LLC has a tile shower with no tub, and the private outdoor space is landscaped with pavers, native plants, and river rock. 
Healthy and sustainable guest experiences are a priority. Guests are encouraged to use day passes at the City of Cottonwood's Recreation Center for exercise and swimming, and the convenient Old Town location supports walkability and bike-ability to area attractions. The hosts provide information, maps, and guides on how guests can reduce their impact while visiting State and National parks, monuments, museums, and the Verde River. They offer tips on local transportation like the Cottonwood Area Transit System and local taxi or shuttle services, plus insights on biking, hiking, kayaking, and trail access.
Given their support of local business, the hosts actively promote the independently owned area restaurants, wine tasting rooms, shops, galleries, and entertainment destinations which enhance the Verde Valley experience and promote a healthy local economy. See who else is certified.