Sedona AZ (September 10, 2014) – The Sedona Arts Center is proud to introduce 16 new artists to their Fine Art Gallery in Uptown, Sedona. The Fine Art Gallery is a venue for member artists to display and sell their art, which supports both the artists and SAC's many educational programs. Jurying of new submissions is conducted twice yearly and this summer the center had 32 artist submissions, the largest number in years.
The 16 artists juried in this summer are: Joanne Agostinelli (Pastel), Suzy Allen (Ceramics), Elaine Belvin (Photography), Rhonda Davis (Ceramics), Rick Gandolfo (Oil), Melanie Gold (Monotype), Jack Jackson (Photography), Katie Love (Photography), Barbara Mallek (Mixed Media), Julie Gilbert Pollard (Watercolor/Acrylic), Jim Schroeder (Oil), Diane Sepanski (Jewelry), Eric Slayton (Oil), Nori Thorne (Pastel), Mike Turner (Digital Art), and Lanie Widmar Geldert (Watercolor).
Keep an eye out for these sensational artists in the coming year! This new group brings a variety of mediums and experience to the Arts Center.
Take, for instance, digital artist Mike Turner. Mike was born and raised in the Midwest and has a history as a journalist, mechanic, woodworker and software engineer. He now works primarily in digital imagery based on fractal geometry. The artistic flame was ignited while Mike was in high school in upstate New York. He took every art class offered and trained extensively in paper-based drafting. His formal training was in computer science at Virginia Commonwealth University in Richmond. It was there that he first was introduced to fractal geometry and the capability of producing fascinating and beautiful images based on mathematical input. Each image is the result of finding a base image or images and then twisting, distorting, coloring, layering and modifying the output until the art emerges. Mike splits his time between Richmond, Virginia, and Sedona, where he and his wife spend their winters.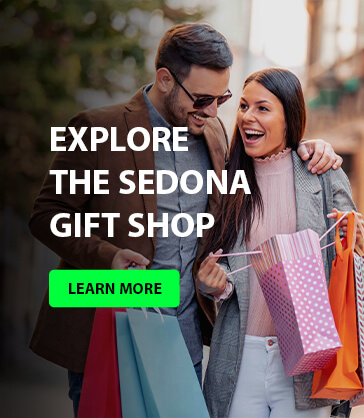 Arizona artist, Julie Gilbert Pollard was also juried in to the gallery. Julie is the author of several books and has given instruction in watercolor and oil since 1985. Her representational painting style is colored with her own personal concept of reality. Julie writes, "The eye may see as a camera 'sees,' but the mind's eye sees an altered, imagined image, what it wants and hopes to see. It's that illusive image, uniquely mine, along with a heightened sense of realness that I try to express in my paintings. This world of ours is often a frightening and mysterious place, but it is filled with scenes and subjects that excite my eye and imagination!" Julie is a frequent award winner and signature member of the National Oil and Acrylic Painter's Society, Arizona Watercolor Association and San Diego Watercolor Society.
These are just two of more than 100 accomplished artists that exhibit at Sedona Arts Center. Visit Sedona Arts Center first, where more than 400 artists teach, study and follow their passion! Sedona Arts Center features a new themed exhibit each month with truly outstanding local artists. Our Fine Art Gallery is open daily from 10 a.m. to 5 p.m. with opening receptions every First Friday of the month from 5 to 8 p.m.
Sedona Arts Center is a 501(c)(3) nonprofit educational institution dedicated to nurturing creative discovery, learning and sharing through arts education and artistic development. For more information call the Gallery at 928-282-3865 or visit SedonaArtsCenter.org, where you can also shop online.