Sedona AZ : Outsiders may not be aware of it, but the music scene in Sedona has always been rich and exciting. Beloved spots like Sound Bites Grill and Mooney's Irish Pub have been providing great food and music for years, and have been graced with the presence of musical acts from up-and-coming performers to seasoned entertainers.
Indeed, the city's love of music has also been a driving force for world-renowned acts that can call Sedona home. Sedona may not be a big city, it may not have the musical heritage of Nashvillor Compton, but we do have some big-name artists who call our little slice of America home.
Here are a few of them:
Michele Branch
Singer-songwriter Michelle Branch was born and raised in Sedona, where her love for music was nurtured. An aspiring musician practically since birth, she started vocal lessons at the age of eight, and at 14 years old, she received her first guitar. By 15, she wrote her first hit single "Everywhere", in her childhood bedroom in Sedona.
She's also known for songs like "Breathe," "Goodbye to You", and her feature in fellow guitarist Santana's "Game of Love." You can often see her performing with her iconic Gibson Hummingbird, an acoustic guitar that helped her tap into her love for country music in her sound and is a long-time staple in her music career.
Poranguí
Musician Poranguí grew up with the cultures of Brazil, Mexico, and the southwestern US, which helped develop the music he plays to heal and move energy in any space. He's known for live looping, real-time recording, and playback of a piece of music. He uses a wide array of instruments such as guitars, percussion, didgeridoo, and his vocals to create music from a range of genres, from meditative to upbeat electronic. He currently lives in Sedona, where he's inspired by the red rocks that help him channel the transformational aspect of music for the mind, body, and soul.
Stanley Jordan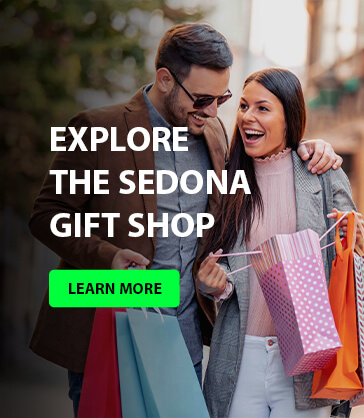 Jazz guitarist Stanley Jordan made a name for himself, playing jazz standard hits with the unique technique that he became known for. Instead of strumming or plucking, he taps on the strings with both hands on the fretboard, creating sounds from the vibrations. Other than his notable style, his ethereal, soulful sound is made possible with his main guitar: an Aperge model from Vigier Guitars, which has a flat fingerboard to support his two-handed tapping. He also utilizes a few effects pedals from brands like Boss, which help create an echo-like tone. The Boss DD-7 Digital Delay sports longer delay times and looping functions to create the illusion of multiple guitars playing simultaneously.
The Chicago-born musician hasn't always resided in Sedona, but he's lived here for decades and has drawn energy from the city ever since. His home provides him with enough space to live and practice music, but he often finds that the Arizona nature outside his window offers the best inspiration.
Brandon Decker
Brandon Decker—also known by the moniker "decker."—is more of an underground artist than the previous names listed but has always valued the Sedona music scene and the community that can come from a shared passion. The psychedelic rock and desert-style inspired artist has always loved the romantic, bohemian vibe of the city's musical landscape and has united acts from Sedona and beyond to play at music festivals like Vortifest and other events in the area. He's noted that the combination of Sedona's gorgeous scenery and the joy of listening to live music can help lift spirits in difficult times.
Article written by Roseanne Jennings
Featured Image by
Image credit: Pixabay
Source: https://pixabay.com/photos/audience-band-concert-crowd-1853662/