Sedona AZ (January 26, 2017) – Hillside Sedona's Movin' On Gallery is pleased to announce that two wonderful new artists have recently joined the venue and will be featured in February.  Master potter Monte Voepel is known for the rich colors and elegant designs of his exquisite pieces, while noted metal artist Lon Walters brings a virtuoso's touch to his intricate and whimsical creations.
In addition, Susan Shatreau-Janisky will continue showing her collection of original Native American art, and Zen painter Shaeri Richards will extend her exhibit of her "Heart Art" series.
These artists will be on hand to meet the public at the venue's popular First Friday reception, 5-8PM on the evening of February 3, 2017.  The gallery's other resident artists will also be present to host the evening's festivities and greet visitors and fans.
Monte Voepel learned the skills of a potter at Webster College in St. Louis, where he received a BA in Art.  For 18 years he supported his family in New Mexico at the potter's wheel, selling his work in Taos, Santa Fe, and Albuquerque and also teaching ceramics at New Mexico Institute of Mining and Technology.
His tableware is made on the potter's wheel, but some of his ornate vases also employ hand-building techniques.  After many years of experimentation with glazes and firing techniques, Voepel has developed a broad palette of colorful glaze combinations which grace his functional and decorative stoneware. 
Lon Walters had a long career as a naval aviator, but he has worn many other hats as well: business owner, baker, columnist, author, and artist.  He must have been wearing the latter one when he enrolled in welding classes, because he emerged from them with a new passion for metal sculpture.
Walters brings that passion, plus an eye for detail and a keen sense of humor, to bear each time he dreams up a new piece.  His droll pieces, often depicting flying machines and vehicles, reflect his love of aviation and all things mechanical.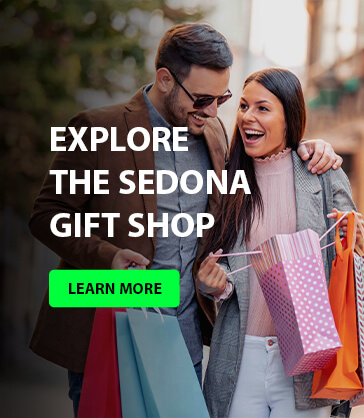 Susan Shatreau-Janisky learned traditional native crafts from her family, and over the years has extended the classic designs by adding original elements of her own creation.  Her specialties include custom made medicine bags beaded on native tanned deer skin, beaded cuff bracelets, elk skin crossbody bags, and sterling silver or wire wrapped jewelry incorporating turquoise, bone, oyster shell, and other materials.
Shaeri Richards' Zen paintings are created through a meditative process in which each painting is inspired by an essence or quality.  The paintings in her Heart Art series are suffused with the spirit of love and tenderness, in celebration of Saint Valentine's day.
Movin' On Gallery is located on the second level of Hillside Sedona Center at 671 State Route 179 (about ½ mile south of the "Y" in Sedona).  It is dedicated to introducing new artists and to showing recent works by some of the best-known artists working in Sedona and the Verde Valley.  
Movin' On currently features an impressive array of resident artists, including: Lorraine Fexas, glass; Andre Renard, copper & brass sculptures; Pat Priolo, gourds and jewelry; Sharon Hall, clay sculptures; Jodie Ball, oils; Harriet McInnis, oils; Terry Davis, wood carving; Teree Settembrino, wind chimes and painting; Rick Gandolofo, acrylics; Carol Gandlofo, photography; Jim Peterson, photography; Sandee Kinnen, fused Glass; Rachel Bulisky, mixed media on stone; Clark Sheppard, paintings; Lenore Hemingway, glass artist; Monte Voepel, ceramics; and Lon Walters, metal sculpture.
The gallery is open from 10:00 AM until 6:00 PM daily.  For more information, call (928) 282-8143 or visit www.MovinOnGallery.com  .