Sedona AZ (February 29, 2016) – To accompany the arrival of springtime, it's natural for folks to expect something new during March.  Hillside Sedona's Movin' On Gallery is more than happy to oblige by featuring two artists whose work is relatively new to the venue.
Painter Any Gordon, the guest artist for the month, will be showing a variety of her expressive works, and featured artist Terry Davis, an accomplished wood turner, will be exhibiting stately collection of his recently completed pieces.
Both artists will be on hand at Movin' On's First Friday reception, 5-8PM on the evening March 4, 2016.  The public is cordially invited to stop by and meet the artists in person, see their recent creations, and learn the stories behind their latest works.  Many of the venue's 16 other artists will also be on hand to host the evening and greet the public.
The son of a naval officer, Terry Davis was born in San Diego and during his teens developed into an avid surfer and rock musician.  When he eventually discovered that he could not make a living at either, he attended the Brooks Institute of Fine Arts in Santa Barbara, where his artistic skills were first honed.
Davis subsequently tried a number of jobs before settling in the Verde Valley and launching a long public service career as a Paramedic and Fire Captain.  After many productive years, he unfortunately suffered a career-ending injury while fighting a house fire.  While deciding what to do next, he observed wood turners at work and was inspired by their craftsmanship and the beauty of their works.
His wood shop then quickly displaced the cars in his garage, and a new career took flight.  His intricate pieces are now seen and collected throughout Northern Arizona, and their charm is undeniable.  "I seek out exotic woods from Asia, Africa, South America, and Mexico," he notes, "and I think that commingling them in my creations adds a unique personality to each piece."
Amy Gordon, originally from Massachusetts and Maine, began her artistic endeavors by painting figurines of horses and Beatrix Potter storybook characters on tiles, dinnerware, and other ceramic pieces.  After moving to Sedona many years ago, she expanded into mural work and commissioned ceramic designs for commercial clients.  She also began painting with oils on canvas.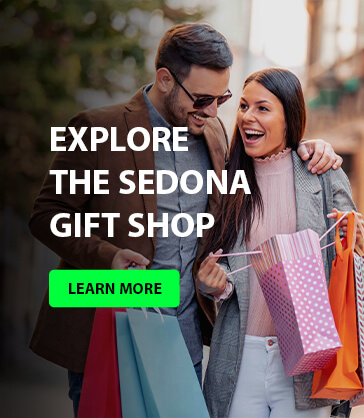 For over nine years, she has also served as a visiting artist in local schools, helping students from elementary through high school grades with a variety of ceramic tile and tile mural projects, many of which are presently installed in the schools.
In recent years, Gordon's paintings have been influenced by the serenity of Japanese art and the principle of "less is more".  She loves to depict the grace and power of horses running free in wild settings and the ethereal mysticism of mountainous landscapes draped in clouds.
Movin' On Gallery is located on the second level of Hillside Sedona Center at 671 State Route 179 (about ½ mile south of the "Y" in Sedona).  It is dedicated to introducing new artists and to showing recent works by some of the best-known artists working in Sedona and the Verde Valley.  
Movin' On currently features  an impressive array of resident artists, including: Lorraine Fexas, glass; Andre Renard, copper & brass sculptures; Pat Priolo, gourds & jewelry; Sharon Hall, clay sculptures; Grace Sky Martinez, spiritual and Native American art; Mary Ratner, photography; Jodie Ball, oils; Patty Miller, pastels and mixed media; Harriet McInnis, oils; Helen McLuckie, oil pastels; Terry Davis, wood carving; David Soto, recycled material sculptures; Teree Settembrino, wind chimes; Rick Gandolofo, acrylics; Carol Gandlofo, photography; Jim Peterson, photography; Sandee Kinnen, fused Glass; and Karen Reed, mixed media and metal collages.
The gallery is open from 10:00 AM until 6:00 PM daily.  For more information, call (928) 282-8143 or visit www.MovinOnGallery.com  .