Sedona AZ (July 27, 2015) – During August, eclectic artist Patty Miller will be showcasing a diverse collection of her newest works at Hillside Sedona's Movin' On Gallery.  Meanwhile, guest artist SanDee Kinnen will be displaying a recently completed series of her whimsical fused glass pieces.
There are interesting parallels in the careers of these two artists.  They each have explored and mastered a wide variety of artistic mediums, and each has a long history of volunteering to further arts activities and education in the community.
The two artists will be honored at Movin' On's First Friday reception at 5-8PM on the evening of August 7, and the public is cordially invited to attend, meet the artists, and hear about what they have been working on.
The works of Patty Miller have long been influenced by the teachings of the Sufi, a Middle Eastern movement whose adherents believe in embracing a divine presence in our daily lives.  "What is seen, heard, and said represents only the surface of reality," she feels.  "There is much, much more going on deeper in the mind, heart, and soul."  Each of her art works represents another step on her personal spiritual journey to uncover and share those deeper meanings.
For the past six years Miller has also coordinated the activities of the Art Mentor Program for the Sedona Visual Artists' Coalition.  Its volunteers go into area schools to provided needed art experiences for students.  In 2012 Miller was awarded the Sedona Mayor's Arts Award in Education for her achievements and dedication to this highly successful program.
Among the new works that Miller will be showing are a colored pencil painting titled "Towards Oneness" and two mixed media clay masks titled "Being and Becoming" and "Sunshine".
SanDee Kinnen has had a long and varied career in which one constant has been involvement in the arts.  After teaching in primary school for several years, she opened a shop in Michigan which, during its 23 year run, mostly featured American made art works.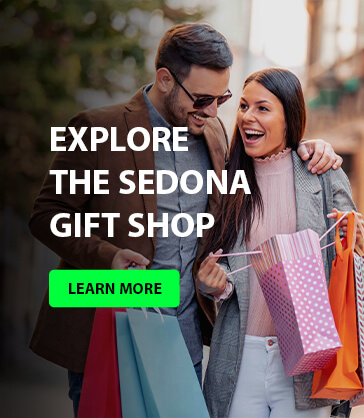 She relocated to Sedona 15 years ago and has since pursued an education in various artistic media, including drawing, watercolor painting, and mosaics.  The latter became her primary medium until relatively recently, when she took up glass art with assistance and support from her mentors, Joanne and Art Hiscox.  Her latest series of underwater dioramas in glass will be displayed at Movin' On; it will included pieces titled "Girl's Night Out", "Playtime", and "I'm Up for Grabs".
Kinnen has also been a dedicated volunteer serving the community; her latest role has been as Chair of the Sedona Public Library's Festival of Wreaths for many years.
Movin' On Gallery is located on the second level of Hillside Sedona Center at 671 State Route 179 (about ½ mile south of the "Y" in Sedona).  It is dedicated to introducing new artists and to showing recent works by some of the best-known artists working in Sedona and the Verde Valley.  
Movin' On currently features  a wide array of resident artists, including: Lorraine Fexas, glass;  Richard Barnwell, iron sculptures; Andre Renard, copper & brass sculptures; Pat Priolo, gourds & jewelry; Sharon Hall, clay sculptures; Luke Metz, pottery; Mary Ratner, photography; Jodie Ball, oils; Patty Miller, pastels and mixed media; Harriet McInnis, oils; Helen McLuckie, oil pastels; Terry Davis, wood carving; Bob Peterson, wood working; David Soto, recycled material sculptures; Patty Childers, stained glass and paintings; Teree Settembrino, wind chimes; Rick Gandolofo, acrylics; Carol Gandlofo, photography, and Jim Peterson, photography.
The gallery is open from 10:00 AM until 6:00 PM daily.  For more information, call (928) 282-8143 or visit www.MovinOnGallery.com  .