Sedona AZ (February 27, 2017) – Hillside Sedona's Movin' On Gallery is pleased to celebrate the arrival of spring by featuring a special exhibit by metal artist Dave Soto plus new works by photographer Jim Peterson.
Both artists will be on hand to meet the public at the venue's popular First Friday reception, 5-8PM on the evening of March 3, 2017.  Many of the gallery's other resident artists will also be present to host the evening's festivities and greet visitors and fans.
Dave Soto, a retired Firefighter and Fire Station Commander from California who is now a member of the Board of the Sedona Fire District, is a self-taught artist who has never been constrained by artistic convention.  He has embraced oil painting, metal working, wood carving, and working with recycled materials and found objects such as metal rebar, old horse shoes, and used clay roof tiles.
But he's never stopped searching for new materials and methods, and his latest innovation is sheet metal art, which he creates like nobody else.  Unique to his technique is the manner in which the shapes and textures of his subjects are created. Using various sanding discs plus the heat generated by sanding the metal surface, colors are drawn from the metal to shape his subjects.  Textured metal surfaces are then layered to provide an iridescent, 3-D effect.
Soto, formerly a resident artist at Movin' On, has returned for a special exhibit of his recent metal works.  "What I find especially appealing about these works is the way they respond as the viewer moves around them," he notes.  "The shimmering textures and colors of the metal surfaces really make the piece come alive."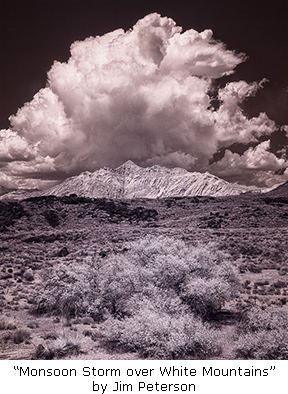 Photographer Jim Peterson has long been known for his elegant images of the natural world, and has more recently developed a body of work using infrared cameras.  His work has won awards and recognition in a number of international photography competitions, and has recently been celebrated by the City of Sedona in a three month exhibition with two other artists (Clark Sheppard and Shey Khandro) at City Hall.  That exhibit runs through the end of March.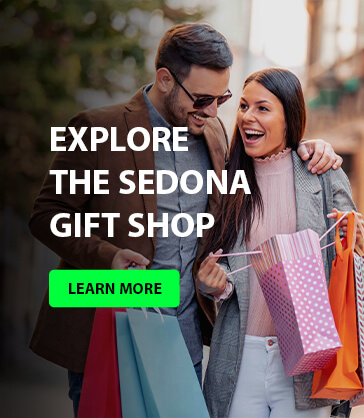 Peterson's work is inspired by a lifelong love of the natural world, which in turn was a very predictable result of growing up in the Southwest.  "If my images convey a bit of reverence for our threatened planet and its beautiful territories and inhabitants," he notes, "then I feel that I am happily serving my mission."
During March, he will be showing a variety of new pieces, including several infrared images, from recent travels through the South and Southwest, plus portraits of wildlife that he has made in the last couple of years.
Movin' On Gallery is located on the second level of Hillside Sedona Center at 671 State Route 179 (about ½ mile south of the "Y" in Sedona).  It is dedicated to introducing new artists and to showing recent works by some of the best-known artists working in Sedona and the Verde Valley.  
Movin' On currently features an impressive array of resident artists, including: Lorraine Fexas, glass; Pat Priolo, gourds and jewelry; Sharon Hall, clay sculptures; Jodie Ball, oils; Harriet McInnis, oils; Terry Davis, wood carving; Teree Settembrino, wind chimes and painting; Rick Gandolofo, acrylics; Carol Gandlofo, photography; Jim Peterson, photography; Sandee Kinnen, fused Glass; Rachel Bulisky, mixed media on stone; Clark Sheppard, paintings; Lenore Hemingway, glass artist; Monte Voepel, ceramics; and Lon Walters, metal sculpture.
The gallery is open from 10:00 AM until 6:00 PM daily.  For more information, call (928) 282-8143 or visit www.MovinOnGallery.com  .