Sedona AZ (June 25, 2016) – With summer in full swing, the coolest local destination on First Friday in July will be Hillside Sedona's Movin' On Gallery, where guest artist Rima Thundercloud and featured artist Jim Peterson will be on hand to showcase some of their latest creations.
The public is invited to enjoy a cordial gathering and meet these artists at Movin' On's First Friday reception, 5-8PM on the evening of July 1, 2016.  Many of the venue's other resident artists will also be present to host the evening's festivities and greet visitors and fans.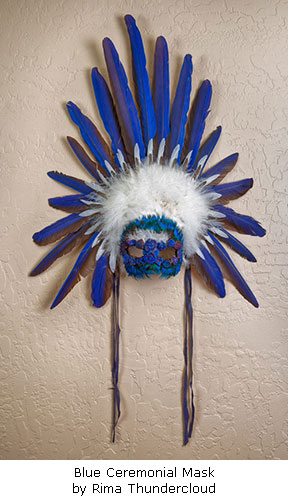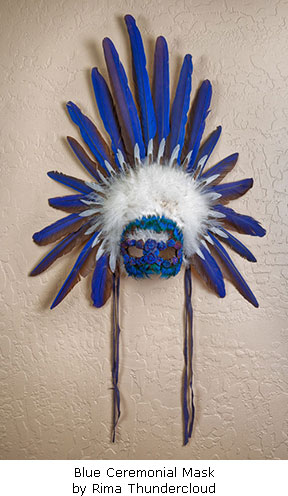 Rima Thundercloud is an artist whose deeply personal works always embody the spiritual and cultural heritage of her early days.  She fondly recalls her Iroquois and Ojibway upbringing in Minnesota and Michigan, where at a very young age she began making creations with rocks, shells, feathers, and "anything natural that I could transform into a new beauty."
Building on the traditions of her family and elders, she began supporting herself and her three children by selling intricate feathered adornment masks, shields, and other ceremonial pieces throughout the country.  She also taught at the Duluth Art Institute and won many awards from the Minneapolis Institute of Art, the Denver Southwest Native American Art Show, and various other organizations and shows.
"My life is a spiritual journey and my art forms represent what I live, breathe, walk, and talk," she says.  "I feel that Nature is my palette and that transformation through ceremonial adornment is my endeavor.  My art is the poetry of my being."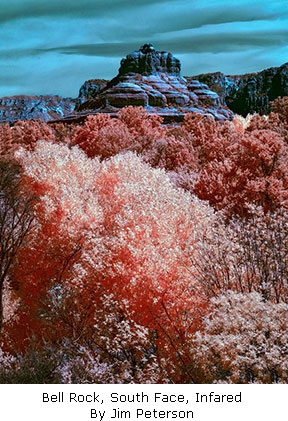 Photographer Jim Peterson is another artist whose work has been profoundly shaped by his early experience.  As a kid growing up in northwestern New Mexico, he acquired an undying affinity for the deserts and mountains of the Southwest, developed during his own wanderings plus frequent family trips throughout the region.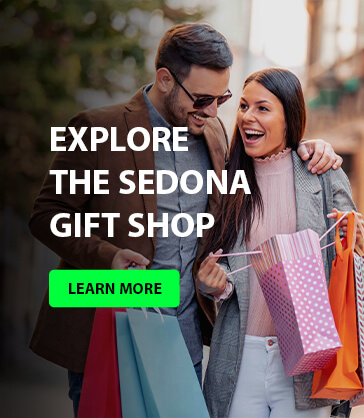 Peterson's subjects thus range from small, intimate portraits of wild beings to majestic, room-sized landscapes and panoramas, plus occasional abstract or experimental compositions.  His works have appeared in numerous shows and galleries in the area and have been acquired by collectors worldwide, and one of his images recently won the "First Place – Outstanding Achievement" award in an international competition.
Peterson has expanded his creative range in the last couple of years by taking up infrared photography, which has given him new and expressive ways of interpreting the world around us.  His exhibit at Movin' On Gallery includes several examples of his infrared images, as well as some of his newest color landscapes from recent travels.
Movin' On Gallery is located on the second level of Hillside Sedona Center at 671 State Route 179 (about ½ mile south of the "Y" in Sedona).  It is dedicated to introducing new artists and to showing recent works by some of the best-known artists working in Sedona and the Verde Valley.  
Movin' On currently features an impressive array of resident artists, including: Lorraine Fexas, glass; Andre Renard, copper & brass sculptures; Pat Priolo, gourds and jewelry; Sharon Hall, clay sculptures; Grace Sky Martinez, spiritual and Native American art; Mary Ratner, photography; Jodie Ball, oils; Patty Miller, multimedia, painting, and sculpture; Harriet McInnis, oils; Helen McLuckie, oil pastels; Terry Davis, wood carving; David Soto, recycled material sculptures; Teree Settembrino, wind chimes; Rick Gandolofo, acrylics; Carol Gandlofo, photography; Jim Peterson, photography; Sandee Kinnen, fused Glass; Karen Reed, mixed media and metal collages; Rachel Bulisky, mixed media on stone; and Judith Victorson, ceramics.
The gallery is open from 10:00 AM until 6:00 PM daily.  For more information, call (928) 282-8143 or visit www.MovinOnGallery.com  .