Sedona AZ (March 31, 2015) – Movin' On Gallery in Hillside Sedona center is pleased to announce that painter Rick Gandolfo and photographer Jim Peterson will be the featured artists for April.  Both artists will be showing an extensive selection of their recent works.  In addition, the venue will exhibit a wide variety of works by three fine guest artists during the month.
The guest artists include Judith Kennan, who crafts beautiful leather and fabric table runners, woodworker Terry Davis, who creates elegant boxes, decorative pens, and wine stoppers, and painter Dennis Frings, who is reknowned for his stunning watercolor landscapes.
The public is cordially invited to meet the artists and view their latest creations at the venue's First Friday reception on April 3, 5-8 PM.
Rick Gandolfo has become widely known for his depictions of local landscapes and landmarks.  His bold colors and adept brushwork make for a style that is instantly recognizable and highly expressive.
Gandolfo got his start as a painter when he won a scholarship to Chouinard Art Institute in Los Angeles (now The Art Institute) while still in high school.  Later in life, he pursued his passion for art by holding as many as three separate jobs while furthering his art education.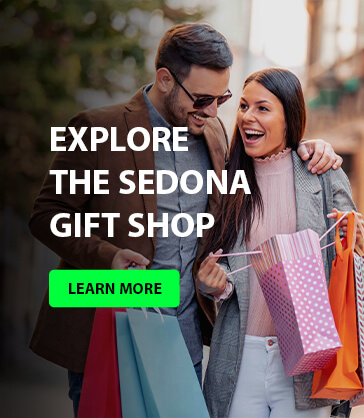 His favorite artistic pursuit is plein air painting in Sedona's magnificent surroundings, but he also paints historic buildings, people, and animals.  In addition, he is now exploring the new (to him) medium of sculpting.
Originally from New Mexico, Jim Peterson creates rich, superbly detailed images of the natural world.  Using a blend of classic photographic methods and contemporary digital techniques, he strives in his work to foster a wider appreciation of the intricate beauty in the fragile world that surrounds us.
Peterson's subjects range from small, intimate portraits of wild beings to majestic, room-sized landscapes and panoramas, plus occasional abstract or experimental compositions.  He expanded the scope of his work last year by embracing infrared photography, providing a new and expressive way of seeing and rendering the world around us.  His exhibit at Movin' On Gallery includes several examples of his infrared images, as well as some of his newest color landscapes from recent travels.
Movin' On Gallery is located on the second level of Hillside Sedona Center at 671 State Route 179 (about ½ mile south of the "Y" in Sedona).  Although the name is new (it was formerly known as Pop Up Sedona Gallery), the venue's focus has not changed – it remains dedicated to showing the latest works by some of the finest artists working in Sedona and the Verde Valley.
The gallery is open from 10:00 AM until 6:00 PM daily.  For more information, call (928) 282-8143 or visit www.MovinOnGallery.com  .