Sedona AZ (August 1, 2017) – Some folks are just born to be artists.  They develop an affinity for making art at an early age and never stop inventing new ways of expressing it.  During August, Hillside Sedona's Movin' On Gallery will be featuring such an artist, in the person of Karen Hammer.
Hammer will be on hand to meet the public at the venue's popular First Friday reception, 5-8PM on the evening of August 4, 2017.  Many of the gallery's other resident artists will also be present to host the evening's festivities and greet visitors and fans, and the public is cordially invited.
Karen Hammer has lived an artist's life since she was a young child.  Growing up in Connecticut in a very artistic family, she received early training, mentoring, and inspiration not only from her parents and siblings but also from an influential teacher in a Montessori school she attended.
She went on to earn a Bachelor of Fine Arts degree from the University of Connecticut, after which she got her start in the jewelry industry in New York City.  Within a few years, she took up glass art as well, incorporating into it some of the ideas and design elements from her jewelry making.  She also got involved in antique furniture restoration, in the process developing a profound appreciation for the value of fine craftsmanship.
After a decade in the Big Apple, Hammer was irresistibly drawn by the call of the West, and settled in the Sedona area.  It was love at first sight for her, and she has never ceased being inspired by it.  She has embraced the spiritual, metaphysical, and environmental points of view, and in them finds an endless source of creativity for her art works.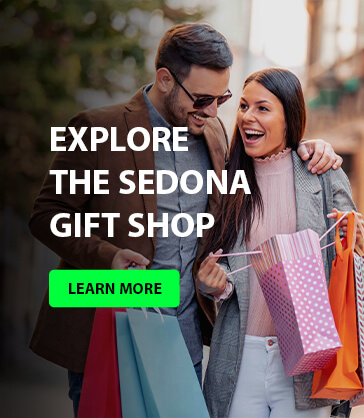 One result is the addition of recycled items such as bullet casings and pieces of leather to the repertoire of materials she works with.  From these, she fashions one of a kind pieces such as bracelets and necklaces that combine her skills in glass work, leather work, bead work, and knitting, producing wearable art that is truly unmatched.
Movin' On Gallery is located on the second level of Hillside Sedona Center at 671 State Route 179 (about ½ mile south of the "Y" in Sedona).  It is dedicated to introducing new artists and to showing recent works by some of the best-known artists working in Sedona and the Verde Valley.   
Movin' On features an impressive array of resident artists, including: Jodie Ball, oils; Bill Caldwell, photographic art; Patricia Caldwell; fiber artist; Lorraine Fexas, glass art; Vicki Tara Gale, free form sculpture and jewelry; Carol Gandlofo, photography; Rick Gandolofo, acrylics; Sharon Hall, clay sculptures; Karen Hammer, stained glass, fused glass, leather jewelry; Pattie Hodel, pottery and glass; Sandee Kinnen, fused Glass; Mona Knittle, jewelry; Harriet McInnis, oils; Jim Peterson, photography; Pat Priolo, gourds and jewelry; Teree Settembrino, wind chimes and paintings; Clark Sheppard, paintings; Karen Taylor, oil paintings;  and  Karl Williams, ceramics and metal.
The gallery is open from 10:00 AM until 6:00 PM daily.  For more information, call (928) 589-1916 or visit www.MovinOnGallery.com  .