Sedona AZ (November 26, 2016) – The holiday spirit is afoot in full force, and Hillside Sedona's Movin' On Gallery is celebrating by bringing back the popular Festival of the Wreaths, organized by Sandee Kinnen, which benefits the Sedona Public Library.  Glass artist Lorraine Fexas, the month's featured artist, will add to the festivities with a variety of holiday-themed items on display.
The public is cordially invited to meet Kinnen and Fexas at the venue's popular First Friday reception, 5-8PM on the evening of December 2, 2016.  Many of the gallery's other resident artists will also be present to host the evening's festivities and greet visitors and fans.
For 11 Years Movin' On Gallery artist Sandee Kinnen, along with volunteers from the Friends of the Sedona Public Library organization, worked tirelessly to make the annual Festival of the Wreaths event a success.  The event has been on hiatus for the last two years, but thanks to Kinnen's diligent efforts, it's now back in a new venue at Movin' On.
Kinnen, along with past Library president Pat Jansen, current Library president David Simmer, and Library Director Virginia Volkman, will be present at Movin' On's Dec. 2 reception to meet the public and show off the beautiful wreaths.  Proceeds from wreath sales will benefit Library programs such as summer reading, the Arizona Humanities Council, and teen theater.
Lorraine Fexas' love of glass was kindled when she moved to Sedona and became a member of the Sedona Arts Center.  She continues developing her skills by attending numerous glass workshops and seminars, and has also teaches fused glass techniques.
Fexas has also been commissioned for a variety of art installations for private collectors nationwide.  She designs fused glass plates, bowls, wall pieces, jewelry, and other decorative and functional items, and her work is exhibited widely throughout the region.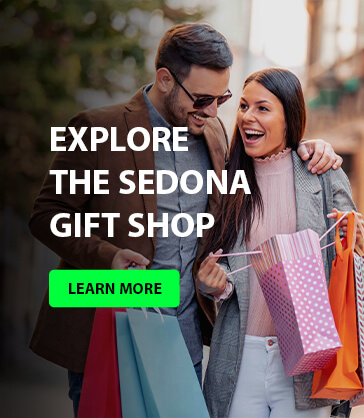 For the holiday season, Fexas has created a range of beautiful dichroic glass pieces that will make treasured, one-of-a-kind gifts.  New and gift-worthy additions to her collection include colorful glass jewelry, Menorahs, Christmas tree ornaments, and holiday coasters.  She will also have a variety of her functional and decorative everyday works on exhibit.
Movin' On Gallery is located on the second level of Hillside Sedona Center at 671 State Route 179 (about ½ mile south of the "Y" in Sedona).  It is dedicated to introducing new artists and to showing recent works by some of the best-known artists working in Sedona and the Verde Valley.  
Movin' On currently features an impressive array of resident artists, including: Lorraine Fexas, glass; Andre Renard, copper & brass sculptures; Pat Priolo, gourds and jewelry; Sharon Hall, clay sculptures; Jodie Ball, oils; Harriet McInnis, oils; Terry Davis, wood carving; David Soto, recycled material sculptures; Teree Settembrino, wind chimes and painting; Rick Gandolofo, acrylics; Carol Gandlofo, photography; Jim Peterson, photography; Sandee Kinnen, fused Glass; Rachel Bulisky, mixed media on stone; Judith Victorson, ceramics; Clark Sheppard, paintings; and Lenore Hemingway, glass artist.
The gallery is open from 10:00 AM until 6:00 PM daily.  For more information, call (928) 282-8143 or visit www.MovinOnGallery.com  .