Sedona AZ (October 29, 2015) – By definition, a successful artist never ceases being an inventor.  The creation of a new work is always an act of innovation – and on a larger parallel, the development of an artistic career can be likened to a continual process of reincarnation.
The two artists featured in November at Hillside's Movin' On Gallery have both mastered the elements of invention and reinvention in their lives, and their bodies of work reflect their respective journeys.  Glass artist Charlie Wolter and mixed media artist Teree Settembrino have always been highly inventive individuals, and their common passion for discovery has carried them into very successful artistic endeavors.
These two artists and their latest works will be honored at Movin' On's First Friday reception at 5-8PM on the evening of November 6.  The public is cordially invited to attend, meet the artists, and hear about the creation of their recent works.
Guest artist Charlie Wolter is originally from the upper Midwest, was educated as a Mechanical Engineer, and had a long and fruitful career in the Aerospace industry.  His proudest achievement was the invention and development of a coating system to protect the nozzles of rockets from erosion and oxidation; this invention has been widely adopted in the industry.
But his creativity was not confined just to his career.  While working in Long Beach, CA, he began working in stained glass.  After making some much-admired windows for his own home, he began receiving commissions for stained glass works from others, and his future direction started to take shape.
With his wife Joanie, Wolter retired to Sedona in 2007 – or at least he tried to retire.  But his creative energy led him both to start a successful consulting business and to continue his work with glass.  He also served on the Board of the Sedona Arts Center for several years, and was instrumental in establishing rigorous new financial practices there.  But his new passion, he says, is creating colorful fused glass pieces, many of which will be on display at Movin' On during November.
Teree Settembrino is originally from Boston, but moved to Arizona back in 1989.  Although her earliest exposure to art came from her artistic mother, her boundless creativity and strong sense of independence quickly led her into her own explorations and studies.  For many years, however, she was too shy to show her works.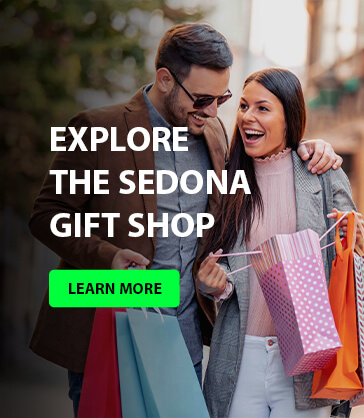 She moved to Sedona in 1999, and quickly found two mentors who were instrumental in her growth as an artist.  She credits Teri Hood (now deceased) for helping her come out of her shell and share her works publicly, and she is grateful to Wendy Smith for showing her new techniques and for encouraging her in her journey of self-expression and bold style.
Settembrino works in a variety of media.  At Movin' On, she will be displaying a varied collection of colorful and elaborate wind chimes plus some recent and highly personal paintings.  "My art works are the love of my life," she says.  "Working on my art is an indispensable part of every day for me."
Movin' On Gallery is located on the second level of Hillside Sedona Center at 671 State Route 179 (about ½ mile south of the "Y" in Sedona).  It is dedicated to introducing new artists and to showing recent works by some of the best-known artists working in Sedona and the Verde Valley.  
Movin' On currently features  a wide array of resident artists, including: Lorraine Fexas, glass;  Richard Barnwell, iron sculptures; Andre Renard, copper & brass sculptures; Pat Priolo, gourds & jewelry; Sharon Hall, clay sculptures; Luke Metz, pottery; Mary Ratner, photography; Jodie Ball, oils; Patty Miller, pastels and mixed media; Harriet McInnis, oils; Helen McLuckie, oil pastels; Terry Davis, wood carving; David Soto, recycled material sculptures; Teree Settembrino, wind chimes; Rick Gandolofo, acrylics; Carol Gandlofo, photography; Jim Peterson, photography; Sandee Kinnen, fused Glass; and Karen Reed, recycled materials.
The gallery is open from 10:00 AM until 6:00 PM daily.  For more information, call (928) 282-8143 or visit www.MovinOnGallery.com  .