Sedona AZ (October 30, 2013) – Monika Hilleary began her career many years ago as a highly successful commercial photographer.  But as an artist, she has journeyed a great distance since that beginning, taking up painting and mixed media and incorporating unique blends of techniques and materials in her more recent and contemporary creations.
During November, many of her latest works will be on exhibit at Sedona Giclée Gallery, located in west Sedona's Harkins Theater Plaza.  An artist's reception will be held in the gallery on Saturday, November 9, from 4 to 8PM, and the public is invited to stop in to meet the artist and view her offerings.
Originally from Colorado, Hilleary's artistic journey has taken her through some improbable places, such as New Zealand boat docks and Arizona junkyards.  She has now settled permanently in Sedona, and thus adds inspiration from our natural Southwestern landscapes and Native American history to her earlier influences.  The result is a common thread that resonates throughout her works, suggesting the presence of a timeless and universal spirit uniting ancient and modern cultures with the natural world.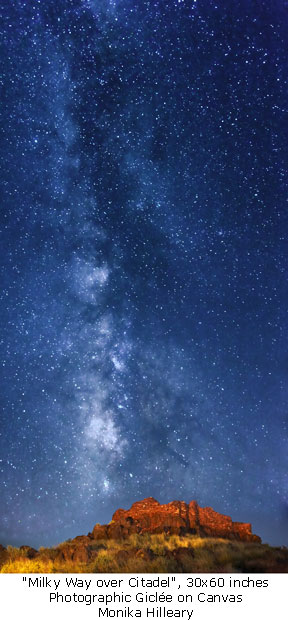 She employs a range of sophisticated techniques to convey her message.  "Some of my current works entail the use of mixed media with sporadic incorporation of dimensional and metallic elements", she notes.  Others pieces incorporate artistic embellishments to macro abstract photography, and still others make use of photographic 'light painting' methods at night to capture natural juxtapositions that the eye can see but no camera can adequately record without added light.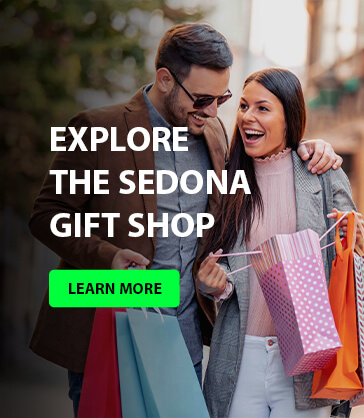 Milky Way over Citadel is an example of Hilleary's large scale light painted photographs that will be on display at Sedona Giclée.  She recently captured this remarkable image at Wupatki National Monument by delicately skimming a portable light over an ancient dwelling during a time exposure, while our home galaxy blazed overhead in the night sky.
And in a much different vein, Hilleary's Ancient Whispers is a large, semi-abstract mixed media piece incorporating metallic elements and cultural symbols against a warm, glowing background suggesting a desert landscape.
Other recent pieces, including Canyon Dreams, Kindred Spirits, Red Awakening, and Ancients, round out her current exhibit and affirm her enduring Southwestern connection.
Sedona Giclée Gallery is located at 2055 W. State Route 89A, Suite B, near the Harkins Theaters, and is open Monday through Saturday from 11AM to 6PM.  For more information, contact Justin or Jodi Whittaker at 928-282-4708 or visit http://www.sedonagicleestudios.com .