Sedona AZ (February 22, 2018) – Red Rose Inspiration For Animals Art Shows that take place exclusively at the Olde Sedona Bar and Grill and Redrock Precision Motors at 1405 West Hwy 89A in West Sedona.  The shows are not affiliated with any other events in town and benefit animal welfare through their organization.
The shows for March 2018 will be Saturday and Sunday from 10:00 am to 5:00 pm on March 3 and 4th and March 24 and 25th.
Red Rose has been promoting shows since 2009 at the same location and is proud to represent some of the most fabulous and talented artist.   You can meet the artist in person and purchase directly from them.  Displaying everything from   clothing, accessories, jewelry, homemade farm soaps, home décor, paintings, pottery, glass art and much more.
[soliloquy id="42678"]
Some of the featured artist with Red Rose are listed below:
Jenny Emminger is a native to Arizona.  She uses a signature process making clay mimic the red rocks of Sedona.   Each decorative piece is handcrafted with good intent and suffused with the beauty of love for nature.
Susan M. Harvey is a very talented artist that has been creating Medicine Horses since 1987.  They are individually handcrafted one of a kind, clay sculptures whose design elements are taken from historical records, mythological beliefs, stories and religions of various horse cultures.    Her work can be found in collections all across the globe.   After years of mainly exhibiting her work in major galleries she has decided to showcase her work at fine art shows and displays exclusively in Sedona at the Red Rose Art Shows.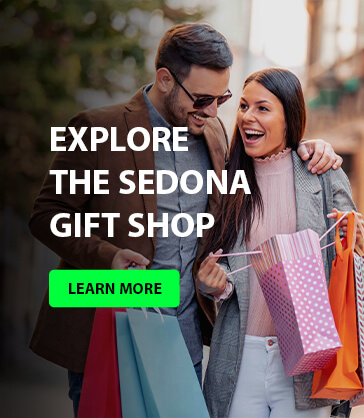 Christine Bendele of Christine's Jewelry Box uses natural gemstones, pearls, natural leather, sterling silver, copper, brass and niobium in her designs.  Her techniques are wire wrapping, hand knotted silk and macramé.  Christine enjoys designing a piece that is unique, comfortable to wear, made with quality craftsmanship and is beautiful. 
Teresa Jennings is a native Californian, who moved to the Verde Valley about 7 years ago.  Teresa has always been very drawn to colors, having been a painter in the past, she loves the movement you can achieve with color.  Teresa moved to the San Francisco Bay area in the mid-1960s, where she loved everything tie dye.  She says she never really stopped wearing it, and had really wanted to make her own tie dyed garments, once she started, she was hooked.  Teresa has been involved in the artist communities for more than twenty years.  Teresa says that she loves to see people wearing something that she had a hand in creating, stating that is truly the best feeling ever.  Teresa and Red Rose have been collaborating on an up-cycled line of tie dye as well. 
Karen Hammer Aka The Crimson Fairy Karen has been brightening up the Verde Valley's art scene with her whimsical stained glass since 2003.   Karen displays exclusively at the Red Rose Shows.  Karen's love of nature, energies, bright colors and all things 'winged" inspires her to create unique pieces with magical charm such as metaphysically themed glass pieces such as her Prayer Fairies and Goddesses.  Some of Karen's larger pieces hang in the Arizona Attorney General's office and the Colorado River Indian Tribes' Tribal Library.   Karen continues to explore different ways to use her glass and beads to create her Dragonflies, Hummingbirds, Butterflies, Fairies and more.
The Red Rose Art Shows offer free parking and free admission with live music by Gina Machovina a classically trained guitarist who has been performing over 30 years.   
For more information:   EMAIL: info@redroseinspiration.org  or visit www.redroseinspiration.org