Sedona AZ (April 29, 2013) – Sedona resident and best-selling author Sarah McLean, director of the McLean Meditation Institute, announces the grand opening of the McLean Meditation Center on Saturday, May 11, and Sunday, May 12, 2013 from 2:00pm – 5:00 pm.
Located in the heart of Sedona, Arizona at 411 Hwy 179, upstairs in the iconic Garland building adjacent to the Oak Creek Canyon Bridge, the Center features displays of vibrant, inspirational art by nationally acclaimed Arizona artists. Visitors will marvel at the watercolor mandalas created by Arizona native and fine artist Vikki Reed, hand-crafted desert lotus altars by Sedona resident and fine artist Pamela Becker, and inspirational botanical art created by Kathy Klein of Danmala in Cornville. In addition, visitors will discover hard-to-find meditation supplies and delightful gift items.
The colorful art and the soul-soothing meditation room are not the only delights visitors will find, they will also enjoy the bird's eye view from the second-story windows revealing the red rock landscape and towering cottonwoods that line the Oak Creek. The center is truly an oasis and a welcome new addition to Sedona's spiritual scene.
During the grand opening celebration, visitors will be treated to live music performances by internationally acclaimed flamenco guitarist, Gaetano of the band Mosaico on Saturday, and by a master of Native American and ethnic flutes from around the world, Oman Ken, on Sunday. The grand opening event is free and open to the public.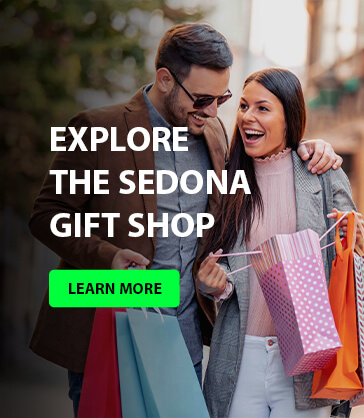 "I'm delighted and grateful to be opening this center and I hope it will serve the needs of the Sedona meditation community as well as become a meditation hub for visitors from all over the world," says Hay House author and owner Sarah McLean who has been teaching meditation for 20 years. "Meditation is so beneficial to everyone and can enhance anyone's physical, mental, and emotional wellbeing. Its benefits are amazing! Everyone, regardless of experience, is invited to join in on our meditation salons, learn the Simple, Easy, Every Day Meditation™ Method, and participate in a community meditation. And for veteran meditators, coming to one of our weekend retreats or becoming a certified meditation teacher are great ways to deepen their practice."
Sarah McLean began her career in meditation working with Deepak Chopra in 1990. She's since been a resident in a Zen Buddhist monastery and has lived in India in a meditation community. Known as the face of mainstream meditation, she brings meditation to a variety of organizations including the Thunderbird School of Global Management, Young Presidents Organizations, and Proctor & Gamble, and has been featured in the New York Times, the Chicago Tribune, and taught meditation on Fox Health News.
After the grand opening on May 11-12, the center is open to the public every afternoon and offers weekend retreats and meditation classes, evening programs, and teacher certification. For more information about the Center, the McLean Meditation Institute, or Sarah McLean, visit: or call (928) 204-0067