Sedona AZ (November 11, 2011) – Get to know a family that puts the fun in dysfunctional! In Making God Laugh, the touching family comedy by Sean Grennan, Jimmy and Ruthie welcome their children home over various family holidays spanning three decades. Sometimes they love each other, sometimes they hate each other, and every year they face unresolved issues, old traditions and dubious recipes. Making God Laugh runs November 10 through November 27 at Canyon Moon Theatre.
In this play that is at times hilarious and at times touching, you will find this unique and yet oddly familiar family slipping into your heart. From lines that you could swear came out of your own mother's mouth to situations that you never saw coming, Making God Laugh adds up to a real theatrical treat! The title is swiped from a line by Woody Allen: "If you want to make God laugh, tell him your plans."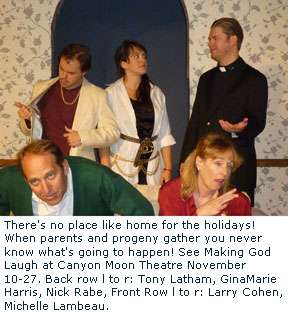 The production team is led by director Mary Guaraldi who is well known to CMT audiences as the Founding Artistic Director. Robert Decker (Sound Design) and EA Vicol (Lighting Design) complete the production team, by creating a sound and light landscape that will draw the audience into family's holiday festivities.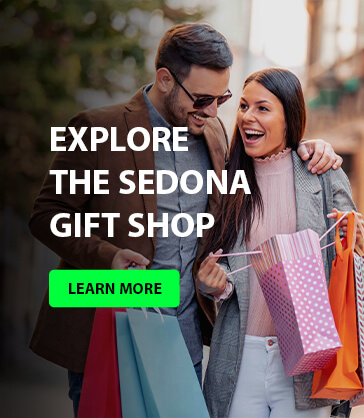 Canyon Moon favorites Larry Cohen (Jimmy) who previously appeared in Panache and Michelle Lambeau (Ruthie) formerly on the CMT stage in Leaving Iowa will thrill audiences once again as the patriarch and matriarch of this curious clan. Emerging for the first time on the CMT stage GinaMarie Harris (Maddie), Tony Latham (Rickie) and Nick Rabe (Tom) bring with them a wealth of theatre experience and promise to delight audiences with their portrayals of a trio of progeny every parent will recognize!  
Making God Laugh plays Thursdays through Sundays, November 10 through November 27, with no performance on November 24 (Thanksgiving Day). Tickets for the first week of performances are $16. For the second and third weeks of performances, tickets are $20.  Full-time student tickets are $11. To purchase tickets or for information on Season subscriptions, call CMT at 928-282-6212. Tickets are also available at Rycus' Corners and Marketplace Café in the VOC and at Basha's inWest Sedona. Thursday through Saturday, shows are at 7:30 p.m.; Sunday performances are at 3:00 p.m.  Canyon Moon Theatre is located in the Oak Creek Factory Outlets, next to Village Pet Supply and Grooming on Highway 179 in theVillage ofOak Creek.