By Virginia Volkman, Library Director
Sedona AZ (December 25, 2015) – The holiday season is a wonderful time to meet up with old friends and take the opportunity to meet new people. Sedona had a wealth of meet-up moments in December.
The Library was honored to be chosen as one of the benefiting charities for the Festival of Trees at Tlaquepaque. It was truly festive, with many library board members, staff, and volunteers enjoying the event and placing winning bids on trees. The crowning moment for us was when Robert O'Donnell, one of our volunteer computer helpers, won the week-long trip to Mexico raffle prize. The lovely tree that's on display in our lobby was a gift to us from the Festival.
The next Saturday began at the Library for the children's holiday program, with delightful music provided by Annette Foldes and her family.  After fueling up with a bowl of chili at the Loving Bowls event at Sedona Arts Center, we were off to Sedona Heritage Museum.
While purchasing some Christmas gifts at the Museum I was pleased to have the chance to meet Ruth Clem at the sales desk. Her name was so familiar, as it appears on one of the porch plaques to honor those who supported the library's building fund. Pillar #4 is a gift from Al and Ruth Clem.   Al was busy serving cider at the museum.
That evening we were back at Tlaquepaque for the lighting of the luminarias. We took advantage of another opportunity to shop locally and stocked up on candles to give as gifts and brighten up our home on these dark days.   There were also more chance connections with friends.
All year long you can make connections at the Sedona Library. There are opportunities for entertainment and education and for personal encounters. The daily connections made between staff, volunteers, and patrons offer unlimited opportunities for sharing and personal growth.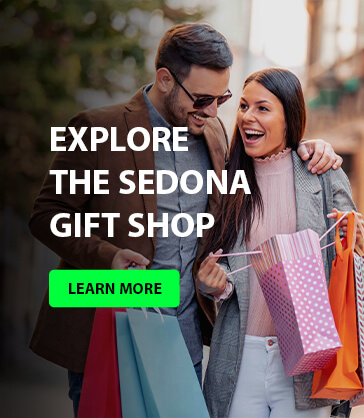 The Library connects people in unexpected ways. A recent encounter at the self-check station was the start of a connection. When I showed a young man how to renew his book, he shared his situation with me. He needed the book to study for his college course, with the goal of improving his grade.
I suggested that he take advantage of our informal tutoring service, and that same day one of our librarians scheduled the first of a number of coaching sessions. A couple of weeks later, news arrived that the student's grade went up from C to A. Along with his verbal thanks for the Library's help was a homemade flan—the ultimate personal connection!
I'm so proud to be part of an organization that has been an important part of the community since 1958.   From a small collection of donated books, the Library has established its presence as an icon of the community.
No other institution in Sedona serves every age group, every economic and cultural group, and 50 local nonprofit organizations, and does it at no cost to users!
From all of your friends at Sedona Public Library, we're sending you warm wishes for a wonderful holiday season and a happy New Year.