With many staying home, agency starting some restrictions earlier
Phoenix AZ (April 10, 2020) – With many people staying at home during the current public health situation, lighter traffic has created an opportunity for the Arizona Department of Transportation to expand the times when construction and maintenance crews can advance improvement projects. 
ADOT typically does much of its major freeway work at night and on weekends to reduce the inconvenience for drivers. But with traffic lighter than normal, crews can start earlier and some projects are adding work on weekdays.
That provides a safer environment for workers and can allow some work to be completed sooner within overall project timelines, said Randy Everett, senior division administrator for ADOT's Central District serving the Phoenix metropolitan area.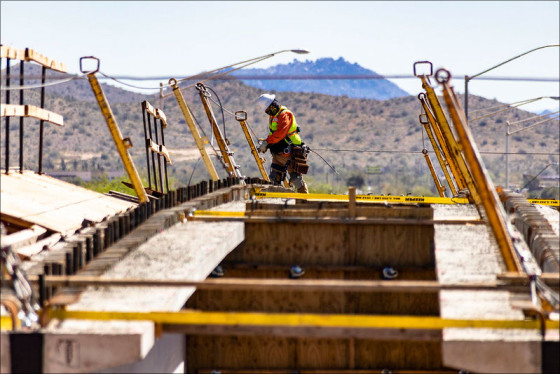 "We usually close lanes from 10 p.m. on a Friday until 5 a.m. on Monday," Everett said. "Now we're finding that when we put in closures at 8 p.m. or even 7:30, there's no line of traffic. We're able to get our work done without creating an inconvenience for drivers."
That has benefited projects across Arizona without creating delays for drivers.
On the Loop 101 Pima Freeway and Loop 101 Price Freeway projects, work is beginning earlier in the evening, allowing crews to complete tasks during safer daylight hours and making it all but certain that the day's tasks will be finished before the scheduled 5 a.m. reopening time.

On the Loop 202 South Mountain Freeway, paving recently began on Thursday night and continued through the day on Friday. Paving may be extended to additional weekdays to take advantage of lighter traffic.

At Interstate 10 and Ruthrauff Road in Tucson, nighttime lane closures are beginning earlier in the evening. "We have not seen any significant impact to traffic with these changes," said Dan Casmer, ADOT's senior resident engineer on the project.

In Flagstaff, ADOT is accelerating a project to widen and improve the Interstate 17 bridge over McConnell Drive. With Northern Arizona University shifting to online classes, full closures of McConnell will begin Monday, April 13, instead of waiting for summer. That will allow the project to finish ahead of schedule and potentially eliminate the need for intermittent closures that were originally planned during the fall semester.
With a safe and reliable transportation system essential to Arizonans, ADOT employees are continuing improvements along nearly 7,000 miles of state highways as part of the state's pandemic response. Rest areas remain open statewide, with two long-shuttered rest areas near Flagstaff reopened last week exclusively for use by commercial vehicles. ADOT's Traffic Operations Center continues operating around the clock to monitor freeway conditions and dispatch maintenance crews as necessary.
"ADOT staff from every corner of the state remain committed to supporting the people of Arizona and those who are moving critical goods into and through our state," ADOT Director John Halikowski said. "Under Governor Ducey's leadership, we are committed to supporting Arizonans as we navigate this situation together."