By Anne Marie Mackler
Sedona AZ (April 20, 2018) – A library is one of the most common and relied upon places for collecting stories, and as part of our 60th anniversary celebrations, Sedona Public Library decided to collect a few of our own. Many volunteers, patrons, staff, and visitors have shared their thoughts, memories, and well wishes for the next 60 years. We'd like to share some of their messages.
Our storytellers range in age from 9 years old to 75, and there is one 5-month-old baby who would have written if she could. Our writers are both visitors and residents, many who came to Sedona from as far away as New York, Chicago, Knoxville, Houston, Lahaina Hawaii, Canada, and Nepal. Common themes in the submissions include gratitude, awe, relief, and joy. Let's take a closer look at what people are saying about Sedona Public Library.
Jarell, 32, tells us that the staff is "always helpful, kind and informative, and proof that libraries are still relevant and important in an ever-changing society."
Linda, a grandmother, says that Sedona Public Library is the Jewel of Sedona because of "the sense of community the Library creates. (It) promotes good citizenship in children." She says, "The children learn to share and play together, which is especially important for an only child."
Julie, 55, writes that the Library is the Jewel of Sedona because "of the wonderful relationship they have with the residents of Sedona Winds. They provide guest speakers and book discussions."
Anne, 73, a local writer, says that the Library has "many, varied books that tickle my brain." She notes that the Library is "open to ordering new books for the collection and has the latest books we all love and need to read." Anne refers to the Library as "a type of intellectual Sedona center" and compares the beauty of the Library to none other than the Library of Congress in D.C.
So many authors talked about how important the Library was to them when they first moved to Sedona. For instance, we have this from Robin. "When I first moved to Sedona and didn't know a single person here, the Sedona Library was a refuge where I could sit for hours . . . to help ease the loneliness of a quiet apartment." Robin now brings her children to the Library and writes that her family loves our Culture Pass, STEM programs, and the ease of using Sedona Public Library in the Village.
Another parent, Emily, 28, mentions how challenging being a new mom is, especially in a foreign country! "The Library has been my sanctuary for meeting other families and building friendships . . . The Library has helped my baby socialize and interact with others in a place where we knew no one."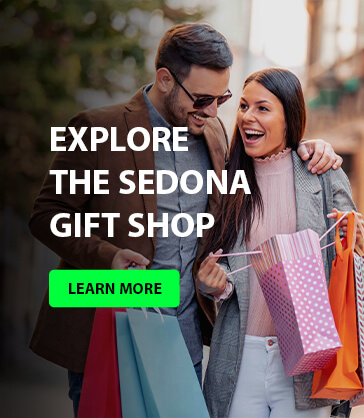 Chris, 57, here on vacation, said, "The Wi-Fi at the resort was terrible. I had to send a large business email and was able to send this easily over your Wi-Fi. Sedona Public Library is a life saver!"
Debra, another writer, spends three months a year in Sedona with her family. "The library is definitely a strong strand of our Sedona experience. She loved the Blind Date with a Book program for Valentine's Day. "What a novel idea!" She loves the bookstore and the French class and tells us, "As a journalist and author, it is so gratifying for me to see how busy the library is and how much this community thrives because of its vibrant presence."
Pradumna, 12, reflects on how amazing he found the library the first time he entered, and now he always feels happy and relaxed when he enters. "The Library youth services helped me find my true potential in reading." He loves the chance to read advanced reader editions. "How cool is it to read books that didn't even come out yet?"
And from a former board member, Barbara, 75, who speaks fondly of days long ago. "I served on the fundraising committee for our facility . . . We promoted events such as Cooks for Books, The Lunch Bunch . . . and Dinner in the Stacks." She notes how hard the board worked and their pride in a library that "contributes as a place of learning for the community."
There were many notes and wishes, and this one sums them all up: "Thank you Sedona Library, again and again, for all you've done to enrich our lives."
We encourage all of you who have used and enjoyed Sedona Public Library to drop us a line. We are grateful to learn how much the Library means to you and your families, and we will collect stories all year long. Visit the Library to pick up a form or find one at sedonalibrary.org.
Please join us on April 28, at 1 pm, to kick off our 60th anniversary celebration with song and poetry, an art sale, special guest speakers, refreshments, and of course, more stories!