(November 22, 2011) – Keep Sedona Beautiful recently hosted its 2011 Volunteer Appreciation Luncheon at the Sedona United Methodist Church. In addition to appreciating and thanking nearly 100 of its volunteers and litter lifters, Sedona's oldest conservation organization also gave awards of appreciation to two local businesses and two individuals. Two of the awards were framed prints of selected winners of Keep Sedona Beautiful's ongoing international Sedona Capture the Wonder Photo Contest, which can be viewed at .
Prior to presenting the awards, KSB President Tom O'Halleran thanked the volunteers for their efforts on behalf of KSB and the community. He further stated: "Our volunteers and members and business sponsors are the reasons for Keep Sedona Beautiful's success and longevity. You are the backbone of our organization; without you, keeping Sedona beautiful would not be possible." Supervisor Matt Ryan of Coconino County said "It speaks well of your community … showing your ethics." Yavapai County Supervisor Chip Davis added "KSB really does a great service to our community …. When you deal with volunteers, it is so refreshing … it's what makes our community so awesome." In addition to KSB's having received proclamations from both counties, Mayor Rob Adams also presented KSB with a proclamation declaring the last week of October as "Litter Lifter and Volunteer Appreciation, and Litter Prevention Month in the City of Sedona" further stating "We urge all citizens to recognize this outstanding volunteer work and to support these efforts by not contributing to litter and by removing litter near their residence or business as part of their daily activities".
Virginia O'Brien was awarded the second annual "Barb Zeschke Trash Buster Award" for her stellar efforts, dedication and service to the KSB Litter Lifter program. Virginia has been a litter lifter for thirteen plus years and is one of the few litter lifters who covers two one-mile routes (remember the "roller coaster" section of the old State Route 179?) Virginia keeps both sides clean, which is an arduous task because there are steep banks on all sides and no shoulder. The first of these awards was given to Barb Zeschke herself, who, before she passed away last January, suggested that Virginia receive the award after her. The award consists of a plaque mounted on a hubcap and it commemorates individuals whose service goes above and beyond what is required.
Much to her surprise, Carolyn Peterson received the President's Volunteer Award for Outstanding Steadfast Dedication, a plaque on a framed print of Mike Koopsen's photograph entitled "Mystical Sedona", which won Best of Show and First Place Professional in KSB's 2007 Sedona Capture the Wonder Photo Contest. As O'Halleran stated, time after time, when he would attend a community function, yet again, there he would see Carolyn participating as a volunteer.
A unique and stunning award was presented to Deb Weinkauff and Joe McNeill on behalf of their publishing business, Sedona Monthly. Because Deb is a photographer, KSB was fortunate to present a unique art piece donated by stained glass artists Joanne and Art Hiscox, with a lovely juniper wooden based donated by Craig Nimtz of The Crooked Chair. KSB recognized Sedona Monthly for its support as a business sponsor, for their editorial articles and for their graphic design consulting.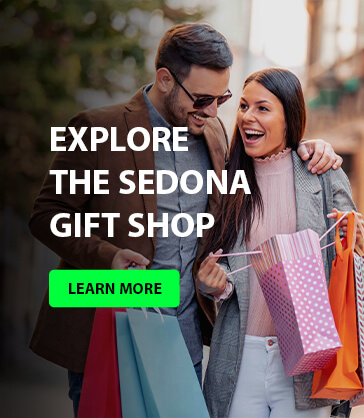 Eva George accepted an award on behalf of New Frontiers, an establishment which is well-known for its generosity to many different nonprofit organizations throughout northern Arizona. The award was a framed photograph entitled "Red Rock Moonrise" taken by Barbara Vickers, which won Best of Show and First Place Professional Color in the 2010 Sedona Capture the Wonder Photo Contest.
O'Halleran indicated how incredibly fortunate Keep Sedona Beautiful is as an organization to have received so many various and generous forms of support from individuals and businesses alike. The entire luncheon was donated by The Wildflower Bread Company, and twenty one-gallon mums, which made beautiful table decorations and were given away to volunteers, were donated by Verde River Growers.
For the second year in a row, KSB thanks Sedona Charter School teacher Jon Anderson and three of his middle school students who assisted with facilitating the luncheon. The two nonprofit organizations formed a special collaborative relationship in 2010 to support each other's projects and events.
Keep Sedona Beautiful is a nonprofit organization that, by acting through the stewardship of its members and volunteers, is committed to protecting and sustaining the unique scenic beauty and natural environment of the Greater Sedona Area. For more information about Keep Sedona Beautiful, please visit www.keepsedonabeautiful.org and/or call 928.282.4938.