Sedona AZ (May 20, 2014) – In June 2014, Red Rock State Park will host the Yavapai- Apache Nation Cultural Awareness Day. The Park will also have local Todd Bostwick speak about the discovery of Sinagua salt mining. Visitors can also enjoy a hike or walk amid the beautiful landscape of the Sedona red rocks. The park offers guided hikes and bird walks as well as the opportunity to explore on your own.
Moonlight Hike: On Friday, June 13 at 7 p.m., join us for our most popular interpretive hike. Led by a naturalist, it gives hikers the rare opportunity to enjoy the sunset and moonrise from an overlook and return by the light of the moon, while also having the chance to learn about Sedona and its surrounding areas. A knowledgeable guide also offers information about the Verde Valley and park history as well as archaeology, geology, botany and riparian wildlife. The hike lasts 2 to 2.5 hours and covers a distance of approximately 2 miles. The Park will also be hosting the Astronomers of Verde Valley for a lunar viewing after the hike on top of the visitor center. The astronomers will have telescopes and volunteers to help guide guests though the evening sky!
Space is limited, so call ahead to reserve your spot by calling (928) 282-6907. A $5 reservation fee is required as well as entry fees to the park upon arrival ($5 per adult for those aged 14 years and older, $3 per youth aged 7-13 and free for children aged 0-6). Rangers ask hikers to please arrive approximately 30 minutes before the starting time to ensure participation. Program fees are non-refundable unless the park must cancel the hike after your arrival. Wear suitable clothing and shoes (prepare for cool night) and bring water, a flashlight and insect spray.
Yavapai-Apache Nation Cultural Awareness Day: On Saturday, June 21 from 10:30 a.m. to 3 p.m., Red Rock State Park will be hosting Yavapai-Apache Cultural Awareness Day. The Gourd Dancers, Bird Dancers, and Crown Dancers, three dance troupes, will perform throughout the day. There will also be several craft vendors, fresh fry bread, and guest speakers representing the Yavapai-Apache Nation. The Yavapai-Apache Nation is comprised of two culturally distinct people, the Yavapai (Wipuhk'a'bah) and the Apache (Dil'zhe'e). Please join us to learn more about the tribes that first settled in this area and observe their traditional dance routines. Though there is no reservation fee for this event, parking is limited. Entry fees for Red Rock State Park are $5 per adult (14 and up), $3 per youth (7-13), and free for children (0-6). For additional information please call the Park at (928) 282-6907. Donations are suggested to support the dance troupes.
Working in the Salt Mine Lecture: On Sunday, June 22 at 2 p.m. in the Park Theatre, Todd Bostwick will speak about the prehistory salt mining in what is now known as Camp Verde. Bostwick will discuss the discovery of prehistoric mining operation by the Sinagua people and how the rare-valuable item led many dangerous journeys across the Southwest through sacred lands associated with the Salt Woman deity. Bostwick will display several photographs of prehistoric tools discovered alongside many other artifacts discovered to illustrate this discovery. Todd Bostwick is currently the Senior Research Archaeologist for Paleo West Archaeology in Phoenix and the Director of Archaeology for the Verde Valley Archaeology Center in Camp Verde. He spent 35 years conducting archaeology research in the Southwest and 21 years as the City of Phoenix Archaeologist at Pueblo Grande Museum. Bostwick has a M.A. in Anthropology and a Ph.D. in history from ASU where he taught as a professor. He has also published several books and received many awards including the Governor's Award in Public Archaeology in 2005. Please call ahead to reserve your space at (928) 282-6907. The program is included with the Park's admission fees: $5 per adult (14 and up), $3 per youth (7-13), and free for children (0-6). This program was made possible by the Arizona Humanities Council. Please visit azhumanities.org for more information.
Bird Watching: On Wednesday and Saturday mornings at 7 a.m., bird enthusiasts will join a naturalist for a guided walk appropriate for beginning and advanced birders. Bring your own binoculars; only a limited number are available for loan from the park. Visitors will see many birds that make the park their home. The Hummingbird Patio is an excellent spot to start your tour. Another good viewing point is the visitor center roof. Most year-round birds are found in the riparian area next to Oak Creek or along the field behind the visitor center. The Audubon Society has designated Red Rock State Park as an Important Birding Area because of the many species who live or visit here.
Nature Walk: Daily at 9 a.m., a volunteer naturalist leads a guided nature walk and informs visitors about the different life zones of Red Rock State Park. The subjects discussed on the walk include: plants, wildlife, geology, history and archaeology. The walk is a learning experience allowing participants to take part in question and answer sessions. Daily at 2 p.m., the park hosts a ranger/naturalist led activity of approximately 45-minutes. Programs may include a nature-hike, a special presentation or an educational/nature video. This program may be an indoor or outdoor activity.
Picnic Areas and Shelters: Several covered ramadas and picnic tables are available to reserve throughout the park. The ramadas feature charcoal barbecue grills, picnic tables, electrical outlets, water and nearby restrooms. To inquire about reserving a ramada for groups, call the park at (928) 282-6907. These areas are also available for daily visitors.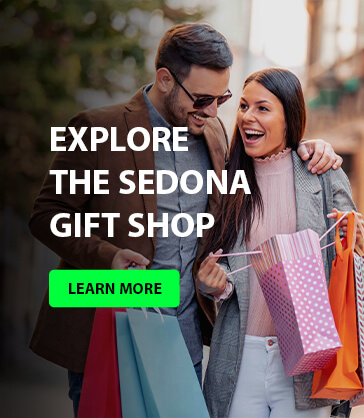 Red Rock State Park is a "pack in-pack out" facility and does not provide trash receptacles. Please remember to "pack out" your trash with you to help us protect the environment and wildlife.
Junior Ranger Program: A Junior Ranger program is available for children between the ages of six and 12. Junior Rangers pledge their part in helping preserve the beauty of the park for everyone! Junior Ranger booklets, available at the Visitor Center, have activities to complete. Once approved by a Ranger, the newest Junior Ranger at Red Rock State Park is sworn in after taking the pledge and receiving a Junior Ranger button.
Visitor Center: The Park Visitor Center features many displays about the area's geology, archaeology, flora and fauna, including an interactive relief map of Sedona and computer programs about various park features, including the House of Apache Fires. The popular video, "The Natural Wonders of Sedona" narrated by local voice-over artist John Conway, is shown several times daily in the Park Theatre. The video features aerial explorations of Indian ruins and dramatic landscapes, colorful desert wildflowers and local wildlife.
For more information about Red Rock State Park call (928) 282-6907. Red Rock State Park is located at 4050 Lower Red Rock Loop Road in Sedona, Ariz. Park hours are 8 a.m. to 5 p.m. and the Visitor Center is open 9 a.m. to 4:30 p.m. The Park Entrance Fee is $5 per adult (14 and up), $3 per youth (7-13) and free for children (0-6). The Arizona State Park Annual Pass is available for $75 (some restrictions apply).
For information about all 27 Arizona State Parks, the Trails and Off-Highway Vehicle Programs and State Historic Preservation Office call (602) 542-4174 (outside of the Phoenix metro area call toll-free (800) 285-3703). Campsite reservations can be made online at AZStateParks.com or by calling the Reservation Call Center at (520) 586-2283. Open 7 days a week, from 8 a.m. to 5 p.m. MST. Follow AZStateParks on Twitter and Facebook.