By Holly Epright
Sedona Main Street Program

Sedona AZ (July 17, 2015) – Join us to celebrate the National Day of the Cowboy July 24-26, 2015, part of our local cultural heritage. Come to the FREE event on Friday and Saturday, July 24th & 25th from High Noon to 8:00 pm and Sunday July 26th from High Noon to 5 pm. Co-presented by Red Rock Posse and Sedona Main Street Program all along North SR 89A & on SR 179 at Red Stone Center near the "Y" roundabout in Uptown Sedona you'll find "a whole lot of cowboy goin's on"!
Coincidentally this year, Sedona is celebrating the 50th Anniversary of the founding of Cowboy Artists of America which took place right here in Uptown Sedona, thanks to Sedona Arts Center. They have arranged activities and the public Grand Opening of a commemorative exhibition on July 24 from 5 – 7:00 pm; the exhibit will continue in the Gallery all weekend. Western artist demonstrations occur on Saturday. From 11 – 1 pm Margo Mitchell and Mary Lois Brown will each demonstrate their own style of Oil Painting: Margo has a way with horses; Mary Lois is a cowgirl at heart! She loves to paint horses and will be set up outside. Her style is painterly and often depicts these wonderful creatures grazing or playing; and Nori Thorne will show share her Leather Tooling technique on a holster. You can watch as she stamps in her various designs. From 1:30- 4 pm Julie Talbot will demonstrate Watercolor & Chrisanne Finefrock, Acrylic Painting: Julie carefully draws out her design using multiple photos for reference, then using various watercolor techniques to complete the painting; Chrisanne often depicts horses, or the Native American, in a soft acrylic style.
Event activities will continue all three days, July 24th – 26th.  These include live cowboy entertainment, country music and dance, wagon rides, trades demonstrations, promotions and sales throughout.
July 25th is the officially proclaimed National Day of the Cowboy, always the fourth Saturday in July. In honor of the day, a special Cowboy Arena is being set up at Canyon Breeze Parking Lot. Cowboy and western dramas, gunfights, comedies, musical revues, action shooting, a Cowboy & Cowgirl Outfit Contest for all ages, square-dancing demonstrations and line dance lessons are taking place here on Saturday from High Noon to 6 pm. In the adjacent Canyon Breeze Plaza you can try your hand at roping and later in the evening enjoy live country music. Details about the many performances follow.
The Red Rock Posse is a "wild bunch" of gun-slinging cowboys … and a few cowgirls…riding out of Sedona. All their many skits are originals offering a bit of history enacted with a sense of humor. And no story would be complete without shoot-outs offering lots of gunfire. All their work on this event is complementary. They not only spend time writing and rehearsing for this big celebration but also help with all the planning and coordinating of other performers and activities. Make sure to show your appreciation.
They'll be joined by the Sedona Showstoppers, presenting several musical revues. With more than two decades of performance history throughout the western states, they are sure to delight with their dancing, singing and comedy.
Cowboy Action Shooters, the Kirkham's of Sedona, will be demonstrating their skills here as well. Cody, alias "Cody James" recently placed 13th overall in the End of the Trail Competition during the Single Action Shooting World Championship in New Mexico and in February he place 5th out of 760 shooters in the Winter Range National Championship. He and his sister Jessica, alias "SASS Kicker" were featured on the Outdoor Channel's Shooting USA television series in May 2014. On Saturday, he'll be joined by his father, Greg Kirkham, who got the interest started and has fanned both the cowboy and community spirit ever since.
A square-dancing demonstration is made possible by Cottonwood Roadrunners Square Dance Club, which has been around since the 1940's. The name has changed a few times and the participants too, but the fun and great exercise continue. For this demo today to be possible, dancers are traveling from Prescott, Black Canyon City, Phoenix and Cottonwood to participate, and the Caller today is Seth Levine from Phoenix.
The Cowboy/Cowgirl Outfit Contest for all ages will take place in the Cowboy Arena on Saturday. Starting at 2:30 pm with Children – Ages 1 -10, at 2:45 for Youth Ages 11-17, at 3:00 for Adult Cowgirls and at 3:15 for Adult Cowboys. The Red Rock Posse will award the winners' prizes, thanks to the event sponsors. So come dressed in your best cowboy/girl finery and take part in the outfit contest. 
Line Dance lessons will be complementary, thanks to 4-time UCWDC World Champion (United Country Western Dance Council) Adrienne Noel Harris and one of Sedona's own, since moving here 10 years ago! "Git yer boots on" (or not) and come out for some Red Rockin' country line dancing from 4 – 5 pm both on Friday at Cheers Plaza on the corner of SR 89A & Forest Road, and on Saturday at the Cowboy Arena next to Canyon Breeze Plaza. Learn line dance steps & combinations to the latest country western tunes, as well as classics and contemporary songs. You don't need a partner, no experience is required, and lessons are open to all!
Roper Paul Pitts has come down from Kingman, AZ to show how it's done, if need be, for the entire weekend. All ages can try their hand at roping, with or without his instruction. Give it a whirl with Roper Paul in the Canyon Breeze Plaza from High Noon to 6 pm on Friday and Saturday, and from High Noon to 4 on Sunday.
The Wells Fargo Stagecoach is making an appearance in front of the Canyon Portal Shoppes and Cowboy Arena. Visit the stagecoach and driver from 1 – 4 pm on Saturday, thanks to the bank's Sedona branch.
Nearby you'll find product tastings and coffee samples from Cactus Carlos. They'll be out along the sidewalk on Saturday from 9 am – 8 pm!
At Taos Plaza on Saturday and Sunday afternoon you'll find free Western Stickers & Tattoos. They're sure to delight the li'l cowpokes in your midst. And at Taos Cantina all weekend long there is a Photo-op Cutout and a Facebook Contest "Ride the Javelina". On Friday and Saturday you can get Gaucho (Mexican Cowboy) Street Food To Go from noon to 5 pm.
Wyatt Earp, the great-nephew of the Arizona legendary Wyatt Earp, will be in front of A Day in the West Jeep Tours from 12 – 5 pm to meet and regale with stories about his Great-Uncle, the lawman and gunfighter who lived from 1848-1929. Today's Wyatt Earp has been portraying his famous relative in performances for 18 years nationally and internationally, in an effort to make folks aware of history by bringing it to life. Much of his show material is written by his wife Terry Tafoya Earp, an award winning Arizona playwright.
Past the History Walk and down the road a piece at Ramsey's Rocks & Minerals 150 SR 179, Bad Bob and Sweet Su will be performing Cowboy Poetry on Friday at 1:30-2 & 3-3:30 and Cowboy Storytelling on Saturday at 12, 2 & 3:30 and Sunday at 11:30, 1:15 & 2:30. They'll also have Western fun giveaways each day from 10 am – 5 pm and two raffles each day at various times.
Cheers Plaza, on the corner of SR 89A & Forest Road is hosting activities Friday, Saturday and Sunday. As mentioned earlier, Line Dance lessons from 4 – 5 pm will be taught by World Champion Adrienne Noel Harris. It's free to join in, you don't need a partner, no experience is required, and lessons are open to all! Here you'll also find Corn Husk Doll Making from 12:30 – 3:30 on Saturday, thanks to a Sedona Heritage Museum volunteer. The Squirt Gun Quick Draw fun is from 1 to 4 pm on Saturday and Sunday, and you can challenge friends and family in a game of Cowpoke Bean Bag Toss and Ring Toss. And while you're there, horse around with Annabelle the Cowgirl Clown. She'll have face frames, hoop games and giveaways.
Down the street, Cahill Leather has brought True West Magazine to town for Saturday. They'll be giving away the latest issue of their magazine from 12 – 6 pm while supplies last.
Meet Mrs. Molly (in costume), who'll be handing out American flags/fans and cowboy-themed gifts to children, at Oak Creek Marketplace on Saturday from 11 am – 6 pm. Take a moment to enjoy the Sedona Wine Walk on Friday through Sunday from 10 am – 9 pm at Made In Arizona's wine bar; there you'll find wine tastings, and ladies who partake will receive a feathered plume for their hair and souvenir commemorative glass.
Buffalo Soldiers of Arizona, Troop "F" 9th Cavalry will be on hand at Cowboy Plaza from 9 am – 8 pm. In full uniform, each takes on the persona of a soldier who fought in the Indian Wars from 1866-1891. They will share the story of their part in the history of the west, with antiquities and horse soldier paraphernalia on display.
Nearby you'll find product tastings and coffee samples from Red Rock Impressions along the sidewalk on Saturday from 9 am – 8 pm!
Wagon rides will be offered by Horsin' Around Adventures for a nominal fee. Catch a ride from Cedic Plaza on the corner of Jordan Road at SR 89A and you'll wind your way up to the Sedona Heritage Museum in Jordan Historical Park and back. By the way, Sedona Heritage Museum is host a special exhibit entitled "The Dean of Arizona's Cowboy Artists – Lon Megargee." He was commissioned by Gov. Hunt, Arizona's first governor, to create the 13 murals that still adorn the state capital walls. One of his most notable achievements for which he was famous was his 'Last Drop' illustration done for the Stetson Hat Company.
Nearby, Sedona Fudge Company will give away fudge samples and you can enter a free daily drawing Friday, Saturday and Sunday for a pound of fudge. A Cowboy Hat Raffle is hosted there with tickets are for sale to win the "Gus Cowboy Hat", as appeared on the TV show Lonesome Dove.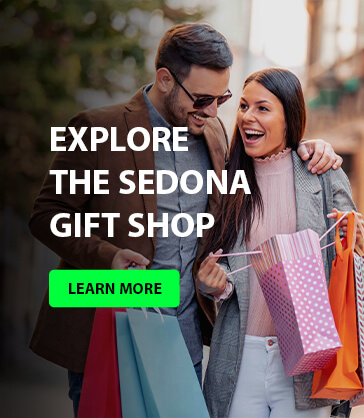 Meet the Arizona Rangers – Verde Valley Company and visit for some Rangers history and photo opportunities. They'll be roving "Main Street" throughout the day on Friday, Saturday and Sunday.
Somewhere in Time Reenactors will be mingling in period costume from 11:30 am – 1 pm Saturday, and are delighted to provide a photo opportunity. They'll be visiting in front of all of our event sponsors, so make sure to catch them at one of those locations.
Olde Time Whittlers (a.k.a Verde Valley Woodcarvers) will demonstrate their talent from 12 – 6 pm on Saturday. These talented woodcarvers are part of a group that has grown from the passion of one man 18 years ago, founder Norm Knight, to a group of 400 people in the Verde Valley area. They start with blanks or boards or almost any material, including soap, and carve wonders. You'll likely find them at the Mid-Block Plaza near the Joe Beeler Statue, a fitting tribute to Sedona's sculptor, painter and founding member of Cowboy Artists of America.
Challenge your compadres to a friendly round of Cowpoke Bean Bag Toss or Ring Toss. They'll be set up for you at the Mid-Block Crosswalk Plaza with the Joe Beeler statue, at Matterhorn Shoppes Plaza over the long weekend.
Leather Tooling and Jewelry-Making demonstrations will be available round-robin Friday, Saturday and Sunday from 12 – 6 pm at Sacajawea Plaza, thanks to Arizona Hattitudes, along with their sidewalk sale.  Free "Wanted Poster" Flash Portraits by Artist Carol Hofford will be created in front of Red Rock Western Jeep Tours at one of the tables with an umbrella. She'll be drawing from 2 – 6:30 on Saturday, so be sure to get your portrait. Stop by to see Wildlife meets the Wild West, visit a live Bearded Dragon and enter a raffle for an Out of Africa tour for 2.
Oaxaca Plaza is hosting live entertainment on Saturday with a performance by Harpy Trails from 12:30 – 2:30 pm. In honor of Cowboy Days, Oaxaca Restaurant will have Sarsaparilla (soft drink) plus Food & Spirits specials Friday through Sunday, this long weekend only.
At Matterhorn Shoppes in Aligning Light Center, you'll find demonstrations of flute playing and crystal wrapping from 1 – 4 pm on Friday and Saturday, plus free 5-minute card readings for anyone all day long. They're also offering 15% off all store merchandise and services for those dressed in cowboy gear from Friday through Sunday.
There you will also find free face-painting at Sedona Kid Company from 1 – 5 pm on Saturday. And next door, a family-friendly show "Keep Your Big Behavior in Your Home Corral" – Scoundrels, Scalawags, & Shenanigans in the Wild West, will be performed by Michael Coyote Peach in Jordan Hall at Wayside Chapel at 1 p.m. and again at 3 pm on Saturday. The show will feature the world premiere of a new piece based on a true story from Sedona's cowboy history and highlight Peach's unique blend of original cowboy poetry with a tongue-in-cheek look at the history of cowboying and the greater Sedona area.  Mike spins tales using jokes, stories, and original cowboy poetry to explore the hard work and hard play of ranching and cowboy life.  After his show of about an hour duration, stay to meet Michael Coyote. Admission is free, though donations are gratefully accepted.  
Free Drawings for a "Touchstone Treasure Chest" and/or an amethyst pendant/necklace set takes place in Touchstone Gallery in Sinagua Plaza. And Grand Canyon Harley Davidson has a 10% discount for those wearing cowboy boots!
Pop into the many Cowboy & Cowgirl Photo Cutout stands set up all along "Main Street". Get everyone in on the photo opportunity anytime Friday to Sunday.
You can count on a wide variety of live cowboy, country & western music throughout the event, in plazas and patios with room to gather and enjoy. The following lists performers in alphabetical order:
Austin & Patti Ladd Roberts are on their 14-state "Let's Go!" tour, sharing original Americana & Alternative Country music well known throughout the Texas Hill Country and the Western U.S. Singer/songwriter /playwright Austin is an accomplished "fingerstyle" guitarist. According to Austin, "Our music has been best described as West Coast Rock meets Texas Country 'Americana' with an edge." He declares that "Patti sings a mean Patsy Cline"! They'll be performing Friday and Saturday evenings.
Brandon Shepard will perform Friday, Saturday and Sunday in the late afternoon at Sinagua Plaza. An Arizona native, he's currently performing in LA, has received national air play and opened for national recording artists such as Mark Chesnutt in 2007 and CMA artist Mark Wills in 2009. Brandon is also an actor in commercials and movies. His music is country with rock 'n roll energy.
Cowboy Dave is a cowboy, entertainer, musician poet, storyteller and jokester. Footloose and fancy-free, he is expected to appear at Sedona Fudge Company for Cowboy Days as the spirit moves him!
Harpy Trails will make music on Friday between 5-7 pm at Sedona Arts Center, and on Saturday from 12:30 – 2:30 pm outside at Oaxaca Plaza; Ken and Lyn Mikell highlight a wide range of traditional music, with particular attention to the Celtic roots of cowboy music. From old time trail songs to the golden era of the radio and silver screen cowboy, Ken's rich vocals and Lyn's beautiful harp put a new twist on old time favorites. The music of the Old World found a new home at the hearths and campfires of the Old West. Ken and Lyn are proud to be a part of that continuing tradition.
Jim & Jeanne Martin will make music with smooth vocals and strumming guitars from 11 am to High Noon on Saturday. The Martins are Harmony Duo award winners & 6 time National Harmony Yodeling Champions, and Jeanne is a Female Vocalist of the Year award winner in the Academy of Western Artists. They perform locally on a regular basis with a repertoire including Songs of the Old West, reminiscent of the legendary "Sons of the Pioneers", as well as some Classic Country tunes.
PK Gregory will perform Friday, Saturday and Sunday from 1 – 4 pm. His fingerpicked guitar, harmonica, home-made suitcase drum and foot percussion is delivered in a compelling baritone reminiscent of Johnny Cash, with a Hank Williams edge. PK's music is rooted in tradition with a storytelling bent that is decidedly modern. Described as "Johnny Cash meets John Prine, with a smattering of Townes Van Zant", fans of the great troubadour tradition will find much to like.
Tex & Emmylou Cowboy Comedy, by locally renowned Tom & Shondra, will be performed at Oak Creek Marketplace on Friday from 5 to 7:30 pm and again on Saturday from noon to 3 pm. They sing, they dance, they play for fun, and you're likely to get roped into their antics and shenanigans.
Several of the stores, restaurants and cafes on both sides of the main street (North SR 89A & North SR 179) will be hosting special promotions and sales on Friday, Saturday and Sunday. So make sure to get an Event Program (on our website www.sedonamainstreet.com and on-site while supplies last) and check them all out.
This event is presented by Sedona Main Street Program and Red Rock Posse. It is made possible by the generous financial and service support of our community-minded businesses, organizations and our media partners, with the volunteer efforts of local folks. Huge thanks go to our Event Presenting Sponsor Red Rock Western Jeep Tours and A Day In the West; John Wayne Sponsors – Clear Creek Trading, Canyon Breeze Restaurant, Open Range Grill and Tavern and Sedona Pizza Company; Roy Rogers Sponsors – Cowboy Club, Sedona Fudge Company and Patriot Disposal, Inc.; Gene Autry Sponsors – Cactus Carlos & Red Rock Impressions and Sterling Financial Services, LLC; and Tom Mix Sponsors – Best Western Arroyo Roble Hotel & Creekside Villas, Joe Wilcox Indian Den and Out of Africa. We are grateful to our Trusty Steeds (contributors of goods and services) City of Sedona, Wells Fargo Bank, Sedona Branch & Stagecoach, Sedona Now Network, DiBattista Construction, Florange Signs & Designs, Sedona Showstoppers,  
Verve Events & Tents, ProBuild, Star Motel, Alliance Heating & Cooling, Sedona Segway Tours, Cowboy Corral, Olsen's Grain. Thanks also to Sedona Police Department, Sedona Volunteer Park Rangers, Arizona Rangers – Verde Valley Company, the property owners who have graciously allowed use of their sites, those performers who are donating their time and talent and many volunteers.
An Event Program and Parking Map are available online at www.sedonamainstreet.com.