Jerome AZ (June 23, 2014) – First Saturday Jerome Art Walk celebrates the Fourth of July weekend in artistic style as galleries and studios open the doors for an evening of summertime enchantment. From the lively Old Jerome High School to The Adorn Collection at the other end of town, delightful surprises abound in this artist colony high on Cleopatra Hill. Restaurants will be offering delicious fare and the charming hotels and Bed and Breakfasts will be welcoming visitors on this holiday weekend. Cool evenings at a mile high beckon guests from the steamy Arizona valleys and lovely art is as much a draw as the respite from the heat. The town shuttle offers free transportation all evening so be prepared to park and let someone else do the driving, if you choose not to walk. With 23 galleries and studios all open in this magical town, one of a kind art is everywhere. Festivities on July 5th begin at 5:00PM with doors open until at least 8:00 PM.  For more information visit www.jeromeartwalk.com or call Donna @(928) 301.3004. A sampling of what is in store for the art lover follows.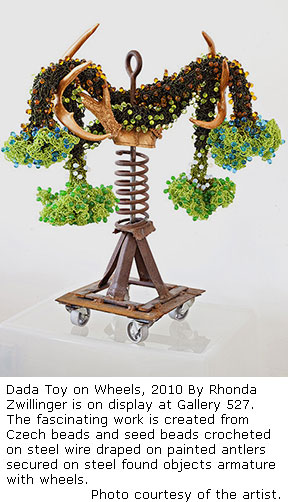 Check out the newly remodeled Jerome's Jewelry. It looks fabulous.  Jerome's Jewelry's features an awesome collection of custom jewelry designs created by father and son team Rick and Ricky Hernandez.  Jewelry artist Rick Hernandez has been creating spectacular custom jewelry for over 20 years in 14k gold and sterling silver using Australian Opal, Diamond, Tanzanite, and Amethyst, along with many other of gemstones.  Rick's son, Rick II, has followed in his father's footsteps, and specializes in the unique art of handcrafted silver work.  Rick II has designed some very creative pieces – his artistic work is usually more on the contemporary side, using Drusy (a specialty gemstone having small crystallized formations from inside a geode). Recently, Rick II wife April has been creating a unique line of jewelry using keys and gears with a mechanical Steampunk flair.  April also has created a wide variety of extraordinary cameo chokers and rings.  Mark your calendar for July 5th and enjoy a wonderful Summer Evening at Jerome's Jewelry Art Walk.
 
Come check out PhotoFlashbacks – the rare and unpublished 1960's concert photography of the late Doug Hartley this July at The Flatiron. We're featuring Janis Joplin, Alice Cooper, Jimi Hendrix, Jim Morrison, Eric Clapton and The Rolling Stones. Each framed print can be purchased for just $60. Espresso, Sweets, and Rock and Roll!
 
Stop by long time member Skyfire as they get ready to close their doors after 30 years. There are some great treasures to be found as the store ends a long run in Jerome.
 
Come down the stairs to the New State Motor Company stores. The animals in Janie Layers shop are losing their heads from the summer heat. She has a wall of new animal masks and many other summer inspired creations

Casa Latina this month is featuring Latin and Native American music by Putumayo / World music CDs including Salsa, Tango & Cumbia sounds and other great music collections. Come in and see our summer new purses from Paraguay. In house artist and musician Duane Ewing will be performing on the Saxophone. The shop is located between the Visitor's Center and Spook Hall.
 
Zen Mountain Gallery invites you to come celebrate the gallery's anniversary. The gallery is grateful for a good past year and our many loyal patrons. Please come have a glass of wine with us and celebrate as we look forward to another coming year. The gallery has achieved a stable of exceptional local artists and is pleased to help support Jerome and the surrounding communities as a community of artists. Many of our artists will be in the gallery for Art Walk and this is a great chance to visit with your favorite artists.
 
Pura Vida Gallery celebrates the return of artist August Munich's copper and steel wind sculptures.  The garden will be alive with the twirling art pieces, accompanied by Anna Obermyer's beautiful blown glass flowers.  Join Pura Vida for chocolates and champagne on the evening of the Art Walk.
 
At the Cellar 433 tasting room and art gallery you will sip and savor AZ wines grown, produced and bottled on Arizona soil\ and be mesmerized by the breathtaking view of the Verde Valley and the glowing red rocks of Sedona.   Featuring AZ wines on two floors, the gallery is filled with amazing art and astounding views in a casual, but elegant space.
 
Jerome Artists Cooperative Summer Membership Show: "Anything Goes!" Un-juried works by current members. The Jerome Artists' Cooperative Gallery displays and sells unique works of art created by its 33 local members.  The members were selected by a gallery jury committee seeking artwork that represents a high standard of workmanship and originality in a particular media. But artists usually don't work in just one medium; they like to explore and experiment. That's what keeps them growing as artists.  In July, you'll be able to view at the Jerome Co-op a collection of un-juried, never-before-displayed artwork. The show entitled "Anything Goes!" reflects another side of Co-op artists' creativity.  They are looking forward to sharing with you some of their other talents. Co-op members are a creative bunch who invite you to join in the fun of discovering their other artistic endeavors. "Anything Goes!" opens July 5th with Art Walk from 5-8 PM and runs through July 30. Gallery hours are daily from 10 AM – 6 PM
 
Gallery 527 hosts The Stain of Politics 7. This yearly July show began as a comment on the world around us and has evolved into less of a visual arts show and more of a performing arts event. Christopher Fox Graham will bring a group of talented poets for a night of poetry of all sorts with music by local favorite Dave Rentz. Michael Gallagher of The Wary Buffalo will contribute his yearly cartoon and new artist Rhonda Zwillinger's mixed media pieces SHIVA  and Dada Toy on Wheels will be on display. Poets will perform at 6pm and again at 7pm. For more information on Jerome Art Walk, visit Jeromeartwalk.com or call Donna at 928.301.3004.