Cottonwood AZ (April 27, 2013) – The Old Town Center for the Arts is pleased to bring another group of international performers to Old Town Cottonwood. The Music of the Andes Mountains comes to OTCA when Hojarasca Andina takes the stage on Friday, May 3rd at 7:30 PM, for a one night only appearance.
"Hojarasca Andina" creates contemporary music on traditional Andean instruments. This South American trio switches between flutes, drum, strings, percussion and song to evoke and evolve the spirit of music. One reviewer said, "An evening with "Hojarasca Andina" suspends time and transports one to a realm where music ebbs and flows with the pulse of the cosmos."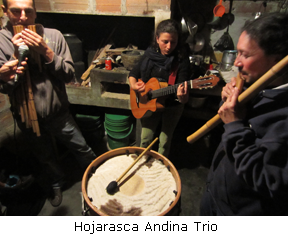 Formed in 2007 in the artistically rich region of Antioquia in Colombia "Hojarasca Andina" explores the space between tradition and innovation utilizing pre – Hispanic instruments and the great variety of rhythms in South America's diverse cultures. With a profound background in the interpretation of traditional songs "Hojarasca Andina" creates a vibrant living soundscape placing their compositional work as a bridge between the past and future.
Founder and Director Lucas Rodas is an instrument maker and ethnomusicologist who with the support of the Dutch Embassy has traveled throughout the Colombian Amazon to do research on the "Huitoto" people and their use of music in ceremony and ritual. Lucas performs on guitar, charango, percussion, and voice. Diego Garcia plays wind instruments, percussion and sings. Ana Maria Calderon adds guitar, percussion, wind instruments and voice to this world music trio. The company is from the rural town of Carmen de Viborral and shares its music both acoustically and electronically in settings large and small.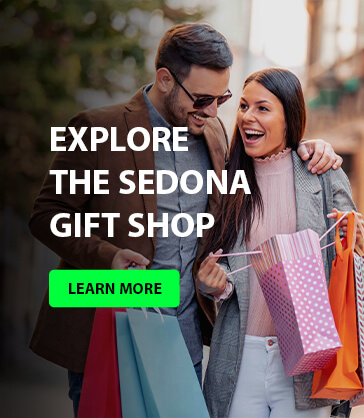 Kambert Betancurt, Director of the prestigious Festival El Gesto Noble, best describes the group saying "The music of Hojarasca is born from the dynamic landscape of Colombia, tranquil and complex, vital and pulsing, modern and archaic. The sounds of Hojarasca are a gateway to the contemporary indigenous soul of the country."
Don't miss this opportunity to hear the international sound of Hojarasca in the intimate and acoustically pristine Old Town Center for the Arts, located at 5th Street & Main in Old Town Cottonwood. Tickets for Hojarasca are $15 in advance, $18 at the door, and $20 priority. Tickets are available online at showtix4u.com. Tickets are also available in Cottonwood at: Orion Flour Garden Café and Jerona Java Café and in Sedona at Crystal Magic. For upcoming events, visit www.oldtowncenter.org. For further information, contact Elena Bullard at 928-634-0940.