Sedona AZ (October 10, 2018) – On October 3, 2018, just before 2PM, a 38-year-old woman from Rimrock called YCSO dispatchers to report being stranded while hiking on Bell Rock, Sedona. She had been hiking since 9:30 AM and decided to become 'adventurous' by going off trail and up the mountain eventually reaching a point where she could no longer continue. Not feeling safe to go back down the way she came as it was too steep, she smartly called for help. Fortunately, YCSO dispatchers were able to capture GPS coordinates as she was unable to adequately explain her whereabouts.
The YCSO Forest Patrol deputy called out the Verde Search and Rescue Team (VSAR) along with the Yavapai County Search and Rescue (YCSRT) Back Country Unit to assist. In the meantime, the YCSO deputy was able to locate the stranded hiker via binoculars from the trail head aided by GPS coordinates. This information was relayed to the VSAR Team and they were able to reach the hiker. She was light headed, cold, tired and did not believe she could make it down the mountain. As a result, a DPS Ranger Helicopter was notified and arrived a short time later. The Ranger pilot was able to do a single skid landing on a rock ledge where VSAR members assisted her into the helicopter. She was flown to the trailhead just after 6 PM, medically evaluated by Sedona Fire Department personnel, and released.
Lesson – hiking alone is never a good idea. Staying on the marked trail would likely have avoided this rescue in the first place. On the plus side, the hiker was smart to remain stationary under the conditions and avoid the risk of returning in difficult terrain.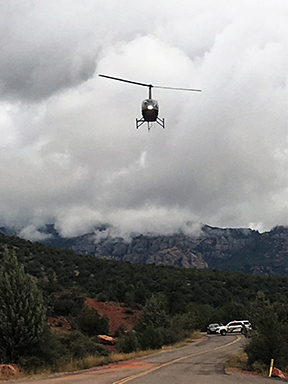 On October 3, 2018, around 4:30AM, YCSO dispatchers received information regarding 2 missing female hikers, ages 59 and 62 from North Carolina, who were hiking since the previous day in the area of Devils Bridge outside of Sedona. The initial call came in from the husband of one of the hikers who reported finding their rental vehicle parked unoccupied in a roadway pullout. He had been trying reach them by cell phone overnight without success. Last contact was at 2:30 PM via text the prior day with the message, 'we are hiking.' The last time they were seen was the prior day around 9 AM.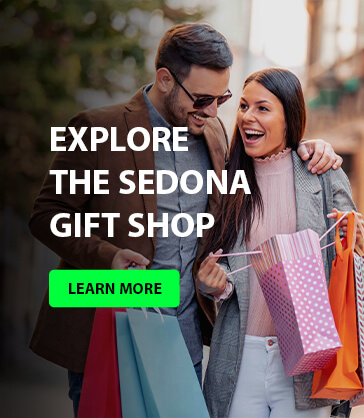 Due to lack of recent contact, YCSO's Rescue 1 helicopter and members of VSAR, the YCSRT Back Country team, 4×4 unit, and Yavapai County Jeep Posse were activated. YCSO dispatchers requested an ongoing ping/location effort with a cell phone belonging to one of the missing hikers. Just after 6:45 AM, Rescue 1 was in the area but had to initially limit the search due to fog. As the morning wore on, Rescue 1 continued the air search, eventually locating the 2 hikers just after 9AM. Fortunately, the Rescue 1 pilot was able to land the helicopter, rescue both hikers, and return them safely to their vehicle. Deputies reported they were over 6 miles from where their vehicle was parked. Considering the light clothing both were wearing as they dealt with cold/rainy conditions overnight, both were in good condition.
The pair indicated becoming lost in part, because they were unfamiliar with the trail and failed to bring a map. They were unable to return due to loss of light and rainy weather, so both decided to find shelter and wait for sun-up before attempting to return to their car.
Lesson – Unfamiliarity with trails and topography in these rugged areas is always a major risk and could result in injury or even death. The red rocks and views are mesmerizing and seeking that adventure should never outweigh necessary preparation and understanding of the terrain.