By Beverly Copen copenbeverly@hotmail.com  
& Paul Jankovsky pjankovskysr@msn.com
Sedona AZ (October 23, 2012) – What a sight – a huge blimp in the skies above the Village of Oak Creek.  The George Brazil blimp event took wings just after dawn on Saturday October 20th, and continued at dawn Sunday morning for 3 hours.  Many weeks of preparation and planning went into this marvelous gift from George and Pat Brazil, of Phoenix, to benefit the Mel Copen Vision Fund.  The Sedona Golf Resort driving range was the site of this "sold-out" event, and had a considerable waiting list of hopeful riders.  Approximately 60 generous residents, friends and visitors donated a minimum of $50 to reserve a 15 – 20 minute unique ride, in the gondola under the blimp, over our Red Rocks.  Whether viewing the blimp from ground level, or from the air, it was spectacular.
As a special treat for a few students at Big Park School, 6 students were presented with the treat of a once-in-a-lifetime ride in the airship/ the blimp.  All 7th and 8th graders names were put into a container.  Principal Steve Gardner was especially thrilled by this offer.  Paul Jankovsky, the lead coordinator of this blimp project, was invited to draw the names.  The lucky 6 students were selected by a draw. Special thanks go to the donors who chose to sponsor a student:  Diane and Marty Smith (Big Park student Eunice Martinez), Joan Perry of Birmingham,Alabama (B/P student Sophia Perry), and business leaders John Kincaid Financial (B/P student Justin Aleman), Don Nelms Insurance (B/P student Natalie Monge), Betsy Paterman, Hilton concierge (B/P student Laura Mathews) and LeAnne Lehman, singer (B/P student Alyssa Lewis).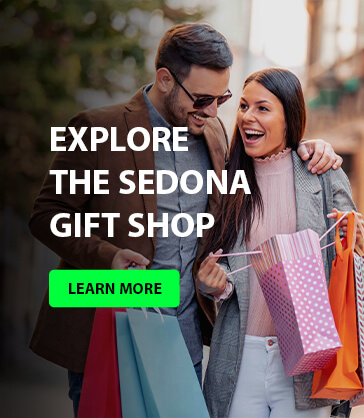 This extraordinary gift concept came into being during March at the "Celebration of Life" ceremony for Mel Copen, when George and Pat Brazil came to Sedona to attend this event.  It is ironic and deeply sad that George passed away 9 weeks later.  Daryl Bingham, Operations Manager for AJAC, Inc. as well as coordinator for Airship activities, has worked closely with the Sedona blimp team volunteers to bring this gift to our community.  Pat Brazil (president of AJAC, Inc. as well as George Brazil National) and company not only provided the blimp, but covered all of the expenses of set-up, flight operation, tear down and much more.  Our gratitude goes to them.   Several thoughtful residents volunteered hospitality to accommodate the crew in their homes, including Carolyn Fisher, President of Big Part Coordinating Council, Dorothy O'Brien, previous President and Paul Jankovsky, VP of the Council, who was lead organizer for this event.  Special thanks to Jeremy Hayman, GM of the Sedona Golf Resort, for allowing us to use the driving range for take-offs and landings.  Both mornings Dave Norton was shooting video which will be used in a variety of special ways. 
With many, many people snapping images with their cameras, this event will be long remembered by all who were there.