Award-winning, critically-acclaimed films premiere at Mary D. Fisher Theatre
Sedona AZ (April 30, 2016) – The Sedona International Film Festival is proud to present the Northern Arizona premieres of "Miles Ahead" (starring Don Cheadle and Ewan McGregor) and "Louder Than Bombs" (starring Isabelle Huppert, Gabriel Byrne, Jesse Eisenberg, Amy Ryan and David Strathairn) showing May 6-11 at the Mary D. Fisher Theatre.
MILES AHEAD
"Miles Ahead", inspired by events in his life, is a wildly entertaining, impressionistic, no-holds barred portrait of one of 20th century music's creative geniuses, Miles Davis, featuring a career defining performance by Oscar nominee Don Cheadle in the title role. Working from a script he co-wrote with Steven Baigelman, Cheadle makes his bravura directorial debut.
In the midst of a dazzling and prolific career at the forefront of modern jazz innovation, Miles Davis (Cheadle) virtually disappears from public view for a period of five years in the late 1970s. Alone and holed up in his home, he is beset by chronic pain from a deteriorating hip, his musical voice stifled and numbed by drugs and pain medications, his mind haunted by unsettling ghosts from the past.
A wily music reporter, Dave Braden (Ewan McGregor) forces his way into Davis' house and, over the next couple of days, the two men unwittingly embark on a wild and sometimes harrowing adventure to recover a stolen tape of the musician's latest compositions. Davis' mercurial behavior is fueled by memories of his failed marriage to the talented and beautiful dancer Frances Taylor (Emayatzy Corinealdi). During their romance and subsequent marriage, Frances served as Davis' muse. It was during this period that he released several of his signature recordings including the groundbreaking "Sketches of Spain" and "Someday My Prince Will Come."
The idyll however, was short lived. The eight-year marriage was marked by infidelity and abuse, and Frances was forced to flee for her own safety as Miles' mental and physical health deteriorated. By the late '70s, plagued by years of regret and loss, Davis flirts with annihilation until he once again finds salvation in his art.
Critics are raving about "Miles Ahead". Kenneth Turan of the Los Angeles times says, "The best performance of Cheadle's decades-long career!" Richard Brody from The New Yorker says, "Cheadle is a majestic performer, whose acting captures something of Davis' fierce, proud, volatile radiance." And David Edelstein from New York Magazine calls the film "A must see! Cheadle is a wild-eyed, electrified Miles Davis!"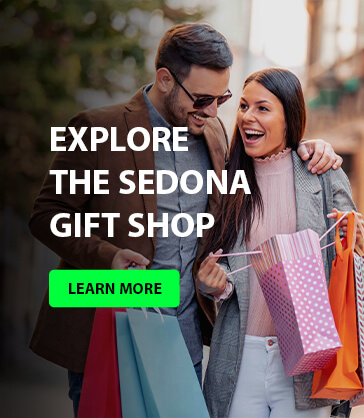 "Miles Ahead" will be shown at the Mary D. Fisher Theatre May 6-11. Showtimes will be 4 p.m. on Friday, Saturday and Monday, May 6, 7 and 9; and 7 p.m. on Sunday, Tuesday and Wednesday, May 8, 10 and 11.
LOUDER THAN BOMBS
A star-studded ensemble cast is featured in the critically-acclaimed new film "Louder Than Bombs", including Isabelle Huppert, Gabriel Byrne, Jesse Eisenberg, Amy Ryan and David Strathairn.
Isabelle Reed (Isabelle Huppert) is a war photographer whose work has taken her to the most dangerous places in the world.  It is therefore tragic – and ironic – when she dies in a car accident a few miles from her safe and secure home in a New York suburb, leaving a grief-stricken husband, Gene (Gabriel Byrne), and two sons, Jonah (Jesse Eisenberg) and Conrad (Devin Druid), to mourn her sudden loss.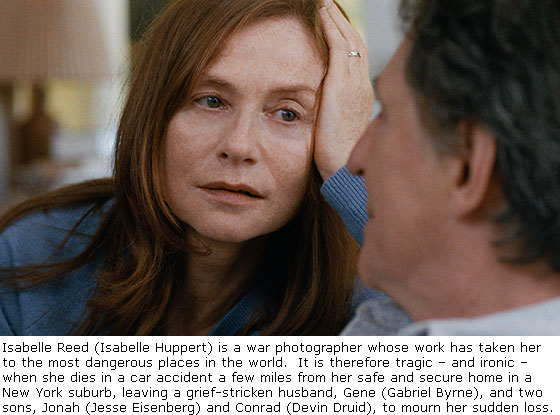 The story begins three years later, when a retrospective of Isabelle's photography is in the works.  Gene enlists the help of Jonah, his elder son, who appears to be functional and in-control, but who is actually overwhelmed and confused by developments in his own life, including marriage and a new baby.  Gene is more concerned about Conrad, his teenage son, who seems to be more affected by the loss of his mother than his brother. Conrad has withdrawn into the world of computer games and fantasy, rejecting his father's attempts to connect with him. Gene too is still struggling with the process of re-entry following his wife's death. 
Everything is thrown into relief by the impending photo retrospective.  In examining Isabelle's images, and reconsidering their memories of her place in their lives, Gene, Jonah, and Conrad confront important revelations about the woman they loved – and who loved them, in her own way.  Isabelle Reed was a complicated woman who lived – and died – by her choices.  Now, her husband and sons can learn from their memories, move forward, and find the confidence to make their own choices in life.  Most importantly, they understand that, even in her absence, the four of them remain a family.
"Louder Than Bombs" will be shown at the Mary D. Fisher Theatre May 6-11. Showtimes will be 7 p.m. on Friday and Monday, May 6 and 9; and 4 p.m. on Tuesday and Wednesday, May 10 and 11.
Tickets are $12, or $9 for Film Festival members. For tickets and more information, please call 928-282-1177. Both the theatre and film festival office are located at 2030 W. Hwy. 89A, in West Sedona. For more information, visit: www.SedonaFilmFestival.org.