By Virginia Volkman, Library Director

Sedona AZ (November 27, 2012) – As we approach the end of 2012, it's time to consider tax-deductible gifts.  You rely on our extensive collection of books, DVDs, CDs, magazines, online resources, and free programs.  Can we rely on you to lend your support by December 31?
Sedona Public Library is a private, 501(c)(3) non-profit corporation, supported by donations and grants.  Your tax-deductible donation may be sent to:  Sedona Public Library, 3250 White Bear Road, Sedona, AZ 86336. 
Government funding pays only a portion of the Library's expenses.  We depend on support from generous individuals like you to help fund our collections and so much more.  Your gift helps keep vital services FREE for residents and visitors.
We also encourage planned giving and ask that you consider remembering the Library in your estate and financial plans to ensure the Library's future.
Started in 1958 by volunteers, Sedona Public Library has been fortunate to receive generous support from Sedona residents and visitors.  Constructing Sedona Public Library's current building truly was a community effort that began in 1986, when Sedona Resident Ethel M. Low donated $326,000 to purchase land for the new building. By 1991 fundraising efforts raised enough money to begin construction on the building.  Groundbreaking ceremonies were held on October 2, 1991.  During the two-and-a-half year construction process, much of the materials and labor were donated by local businesses and contractors.  The doors of the new Library were opened to the public on June 6, 1994.  Donations made it possible to expand the children's room in 2002, adding 1,500 square feet to the building.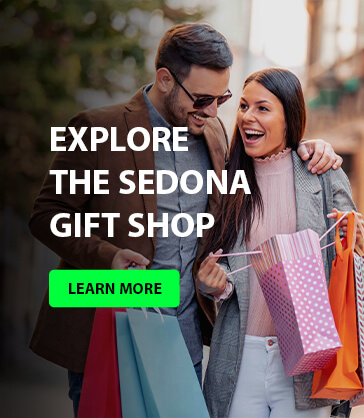 Today, commemorative opportunities remain for Sedona citizens to become a permanent part of the Library.  Here are a few possibilities for you to choose from:
Glass panels in the Silent Waterfall located in the atrium are available for $2,500.
Plaque listings at the front door have three levels:  $500 for Supporter, $1,000 for Donor, and $5,000 for Patron.
Leaves on the Grandchildren's Tree may be purchased at $250 for bronze, $500 for silver, and $1,000 for gold.
Donating books and other materials is an easy way to help the Library meet its expenses.  Some donated items may be added to the Library's collection, but the majority will be sold at our book sales.  What we would like to receive:  gently used hardcover and paperback books, fiction and non-fiction, for children and adults; antique or collectible books regardless of condition, including first editions and autographed copies; audio and video cassettes, CDs, and DVDs; and magazines (particularly magazines for the current year, collectible issues, and magazines of local interest).
I encourage you to become a member of the Friends of the Sedona Library.  Our Friends organization sponsors many fundraising projects, including selling Bashas' Community Support Cards.  By purchasing a card, you can donate six percent of your regular grocery expenses to the Friends group, at no additional cost to you.
The Library will be participating in the Sedona Marathon on February 2, 2013.  Please consider joining the Sedona Public Library team as we walk the 5K, raising money for Library operations through pledges. 
As you can see, there are many ways to help the Library.  Before the year ends, please decide which way you will lend your support.  Will it be by volunteering your time, giving a donation, or including the Library in your planned giving?  Whichever way you choose, we thank you for your support.