OTCA Announces One Night Screening of Eliphante Film "Where Art is Life and Life is Art", with special guest Leda Livant Kahn
Cottonwood AZ (April 9, 2015) – The Old Town Center for the Arts is pleased to announce a screening of the film ELIPHANTE: "Where Art is Life and Life is Art" on Saturday, April 18, at 7:00 pm. There will be one screening only. As a special treat, Leda Livant Kahn, one of the key artists in the film, will be present for this showing, to share her insights.
Drawn by the dramatic inspiration of Sedona and the need for a warmer climate than Provincetown, Mass, Michael Kahn and his partner Leda Livant Kahn, moved to the Southwest. A fortuitous meeting with the owner of a small ranch along Oak Creek in Cornville provided them with an opportunity for their creativity for the next 30 years!  
Being an artist, Michael immediately began invoking some of his painting aesthetics into a third dimension, transforming natural features such as stone and river wood into surreal, fluid, cavern-like structures coated in high-vibrational colors.
While Michael pursued his art non stop (large oil paintings), he also began creating sculptural structures for them to live and work in, using natural materials such as rocks, driftwood, and turning soil into adobe.
For years, Michael built these structures with the help of his wife and friends.  His work seems more shamanic than artistic as his methodology defied convention.  Michael never explained his creation, it just is.  The most significant of his sculptural work is the half subterranean structures of Eliphante the first experimental building, Pipedreams, the art gallery, and Hippodome, where the couple lived.  In between the buildings, stone paths cut through a natural, yet sculpted environment.  Any possible insights from those who knew him elude the logical mind.  This led to what we now known as ELIPHANTE, an ART INSTALLATION on 3 Acres in Cornville along the banks of Oak Creek.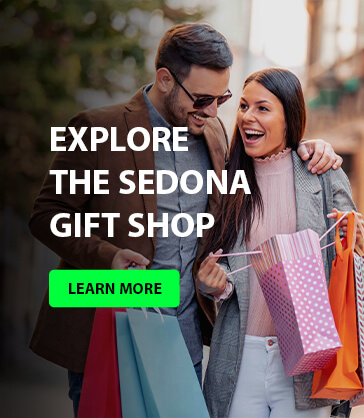 During their years creating Eliphante, it was a magical environment full of spontaneous social interaction that left the most endearing and unforgettable memories for those involved with it. The art and spirit of this place has drawn enough attention and interest that it has been written about and photographed for publication in The New York Times, Arizona Highways, The Arizona Republic and The Noise (Saving Eliphante, by Ellen Jo Roberts). 
This film will give you a glimpse of the creativity found on Eliphante's 3-acre sculptural art installation.This insightful movie explores the wonders of Eliphante from its inception to what is now a magical installation. Take this journey with us to Eliphante and experience the art and the artist Michael Kahn and his wife Leda.
"Mystical, mind blowing and mesmerizing" is what you will experience, while getting a glimpse into one of the truly gifted artists of the Sedona-Verde Valley.  Eliphante is a private residence looked after and cared for by the 501(c)(3) non-profit Eliphante, Ltd.
Tickets for the film, Eliphante- "Where Art is Life and Life is Art" on April 18th 7:00 PM are $10 and will only be available at the door. Doors will open at 6:30 PM.  For more information about this and other upcoming events, visit www.oldtowncenter.org, or call Elena Bullard at 928-634-0940.