By Anne Marie Mackler, Development Director
Sedona AZ (April 26, 2019) – Thank you for making the first annual Library Giving Day a success! Our original goal was an ambitious $10,000. Our results? $40,000! Thank you to everyone who participated – donors from 11 to 88 years old! Your gifts help guarantee that the community will continue to enjoy educational and culturally enriching programs, updated books and materials, connection to technology, and so much more.
The Library Giving Day campaign was originally crafted by the Seattle Public Library Foundation as part of National Library Week, and it was supported by the American Library Association and the Public Library Association. It was designed to remind people that libraries are cornerstones of their communities.
What started as an idea grew into a movement of 190 library systems across North America, just in its first year, representing 39 U.S. states and four Canadian provinces. Sedona Public Library is thrilled to be a part of a national effort to amplify libraries' profiles in their communities, and we are thrilled with the tremendous turnout of donors.
Thanks to 115 of you who made donations that were matched dollar for dollar – up to a total of $20,000. With the match, given by two generous donors, we raised $40,000 towards our Library programs, services, collections, exhibits, and more.
Sedona Public Library has its roots in community generosity from its founding by a small group of Friends; to the gift of land by Eugenia Wright and Helen Ecker for the first building on Jordan Road; and to the cash donation by Ethel M. Low to buy land for our current large facility on White Bear Road. The construction of both buildings was a result of community support by way of cash, materials, and labor, and the generosity continues.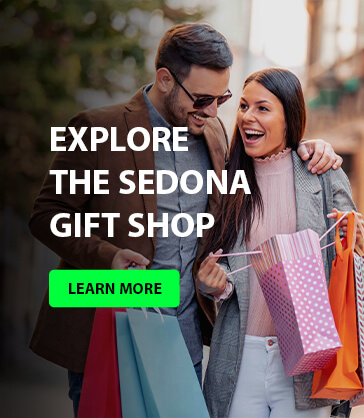 We are a thriving, growing, and strong organization, and we are one of the oldest businesses in Sedona. We owe our historic success to each and every donor who carries on that founding spirit of philanthropy. Donors for Library Giving Day included volunteers, board members, staff, and patrons, even one eleven-year-old girl.
"I want to help," this young patron told a few of us sitting at the welcome table on Library Giving Day. While she did have her eye on the chocolates we gave away to donors, she happily dropped her two quarters in the donation box. "I love to read," she told us. "I love books." We believe that when she walked away with a chocolate she also walked away knowing she had supported a place she truly loves.
The opportunities to support the Library didn't end on April 10, in fact, on Monday, April 29 you have an opportunity to specifically support Sedona Public Library in the Village when you shop at Clark's Market on Verde Valley School Road.
April 29 is Clark's 'Non-Profit Monday,' when you can drop your purchase receipt in the Giving Box at checkout (duplicate receipts provided). We'll receive five percent of the sales receipt total. Tell your friends and neighbors, and we hope to see you there, 6:30 a.m. to 9:00 p.m.
Thanks, again, Sedona. Your support makes a huge difference to what we can offer to the community. Sedona Public Library is an independent, 501c3, private, debt-free, non-profit organization providing public service. We receive support from the City of Sedona, property tax dollars from Yavapai and Coconino Counties, and gifts from businesses, foundations, and individuals like you, as well as Friends of the Sedona Library. Please visit us atsedonalibrary.org.