By Jennifer Epperson
Executive Director, Imagiventure Foundation
Sedona AZ (August 26, 2013) – Ever since the nasty breakup scene a couple of weeks ago, when a hurt and angry population bowed and scraped before city council, begging council to be allowed to continue to provide hundreds of hours of free professional services, I have been thinking about what Sedona needs to become a city animated by the arts. The extraordinary new Sedona Community Plan, on which we will all vote next spring, puts forward the idea for Sedona to "be all that it can be". If we, as citizens and artists, want to be a part of making this happen, we need to put on our big girl panties, stop whining, and create an arts/culture organization worthy of Sedona and independent of city government.
While we have moaned and moped in frustration over the impotence of our municipal government to be a leader in the arts, other cultural creatives and organizations out there (NAU, Sedona International Film Festival, Sedona Art Center, Sedona Library, Sedona Arts and Culture Collaborative, and the upcoming Illuminate Film Festival 2014, just to name a few) are steadily creating magnificent opportunities and programs for locals and visitors alike.  
A variety of citizens, far more knowledgeable and concerned than me, have relentlessly articulated the problems and barriers that prevent our community from cultivating and celebrating art and artists. Anger and frustration has been directed at a very small hapless group of well meaning bureaucrats at city hall. While city staff are educated and experienced in government, they do not have the skills to lead our arts community.  No two groups could have more different approaches to life than government employees and artists.  
For better or worse, linearly focused bureaucracies exist to make rules, regulations, to avoid risks, and to keep basic services functional.  In the past it has often been the position of Sedona's government to postpone, restrict and obstruct; to fearfully devise all the reasons something CANNOT happen. And they are not doing this in a vacuum.  A very vocal part of our citizenry is driven by fear, 'this bad thing could happen, that bad thing could happen" and this keeps us from moving forward. In the recent past, Sedona abided by what the ever articulate Ron Swanson (Parks and Recreation, in the fictional Pawnee, Indiana) says about the job of city government: "to do as little as possible so as not to offend anyone."
Conversely, artists approach the world with heightened senses; they exercise neural connections that others often overlook. They engage in the creative process. Imagination and creativity are amazing human capabilities, brain functions we all possess. Artists exercise this ability, and engage in the active "what if?"   Writers, painters, actors, musicians, sculptors, and illustrators produce all manner of outward expression of this magnificient human capability to bring art alive. The willingness of artists to put themselves out there, to share the process, the failures and successful results of creative endeavor, enliven us as humans and stimulate connection.
There are scores of communities that have used the talent of their artists, art lovers, educators and supporters to revive and enliven socially and economically distraught places. Large metro areas like Toronto, Seattle, Miami, Chicago, New Orleans and Houston have transformed areas and economies with the grass roots action of their artists. Smaller cities and towns like Palm Springs, Santa Fe, Fort Worth, Jerome and Winslow have used the abundance of talent from their artist population to define their image.  
Each community starts with particular challenges and raw materials—a derelict but important part of town, a wonderful historic building in need of repurposing, a group of dedicated artists and supporters, or an innovative museum whose curators are not afraid to shake things up.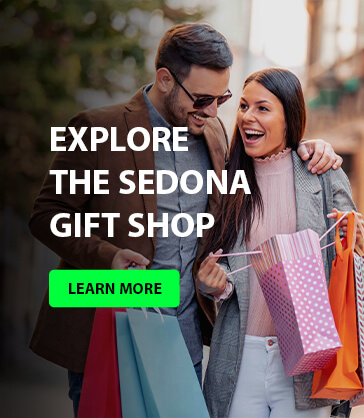 What are Sedona's raw materials? First, this is one of the most beautiful places on earth. We consider ourselves landowners, but we are only stewards of this magnificient place for a short while. This ancient spiritual place has historic, scientific, and cultural significance. We have clean air and water, along with fabulous weather. We live surrounded by ancient geology both reminiscent of and different from the Grand Canyon.
Second, by some counts approximately 25% of our population is comprised of artists; amazing, talented creatives who stand ready to enrich our lives, challenge our minds, and bring us pleasure.
Third, we have an amazing history of artists, and a living legacy of artists here–Ruth and John Waddell, Joella Jean Mahoney, James Turrell, Adele Seronde, Jim Bishop, Shondra Jepperson, Tina Mion, John Soderberg, and the list goes on and on.  
Finally, we have a unique built environment exemplified by a quaint and historic uptown "village on the rocks". It is filled with remarkable flora, many that yield apples and apricots, cherries and plums, pomegranates and peaches.  Most were planted by some generous soul in the past. We have a treasure trove of historic mid century cottages, fences and walls.  We share this place with eagles, herons, hawks, hummingbirds, bobcats, javelina, deer, brown trout, black widows, tarantulas and scorpions.
This, fellow artists is what we have to work with!  Why do we then look to the city to lead us in creating an environment that is conducive for artists to live, work, play and visit? Would the city not make better partner than a leader for art? Why not optimize the new plan conceived by city staff, and create a more dynamic and powerful structure to launch art and culture?
This is not a new idea—there are abundant role models in cities all over the country. Artists have always been the leaders in transformation, redefining and reinvigorating places, people and culture. Artists provide the heavy lifting, the ideas and the energy –that part of creating that takes us from imagination to actualization. We have everything that we need to make this town thrive, except one very important element that has been lost along the way. That element is so important that it deserves its own column.
I urge you to begin to imagine how you can be a part of making Sedona a city animated by the arts. Some folks scoff at visions, concepts and plans. But how else can we truly accomplish anything?  It is time we stop whining and blaming and get to work. If we lead, the small group of folks at city hall will follow.