Sedona AZ (December 14, 2021) – The city invites the public to attend its next artist reception on Thursday, Dec. 16, 2021 from 4 to 6 p.m. in the Council Chambers and Vultee Conference Room at City Hall to celebrate some of Sedona's most seasoned local artists such as Jacque Jordan Jackson, Ruth Holland Waddell and Theodosia Greene, as well as posthumously Dorothy Tanning, Harriet McInnis, Lillian Wilhelm Smith and Ruth Jordan. Special music guest will be Erroll Foldes. 
Masks are required at the event due to pandemic concerns. This exhibit is on display through Wednesday, Jan. 5, 2022.
"After honoring these respected artists for Women's History Month last March, I naturally offered them a collaborative exhibit to celebrate their work. Due to pandemic concerns, this exhibit has been extended and the reception has been a long time coming. I am excited to finally offer this opportunity and hope the public will make time to attend," said Arts and Culture Coordinator Nancy Lattanzi.
About the artists
Jordan Jackson has acrylic and silk paintings on display. She has worked in nearly every medium from ceramics to oils. All her designs are inspired by nature having an evocative connection to the world around her. She created four, 3-by-15-foot silk hand-painted hangings that were installed for the 60th anniversary of the Chapel of the Holy Cross. Her family story is deeply woven into Sedona's history, being part of the original Jordan pioneer family who arrived here in 1875. Her grandparents' homestead is now where the Sedona Heritage Museum is located. Jordan Road, named after her family, is still home to many of her family's apple orchards.
Holland Waddell has watercolor, pastel and charcoal work on display. She took art classes as a child at the School of the Art Institute of Chicago, continued taking high school scholarship classes and finally earned a Bachelor in Fine Arts in 1949. She painted through 1957 until her family moved to Tempe, Ariz. and 40 years of family responsibilities followed. In 1970 Waddell moved to the Verde Valley, where she still resides. In the 1990s, she reentered the studio and returned to plein air painting, finding a richness with nature. Holland Waddell finds art an ongoing challenge and opportunity. 
Greene has acrylic paintings, mixed media and metal work on display. For more than 50 years she has pursued art specializing in metal relief, painted bone sculpture, watercolor landscapes, seascapes, pastel portraits and greeting cards. She studied fine arts at Scripps College and Ecole des Beaux Arts, and metal work at the Art Institute of San Miguel de Allende. Her real muse has been the beauty, humor and spirit she has encountered of the people and landscapes from Greece, New Zealand, Indonesia, Jamaica and Sedona. Greene has exhibited at museums, art institutes, universities and galleries from Boston to San Francisco, as well as Arizona.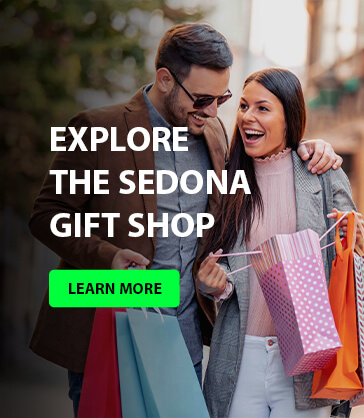 Tanning's etchings, as well as oil paintings created by Wilhelm Smith, are generously on loan for this exhibit by Mark Rownd. Tanning first came to Sedona in 1943 with Max Ernst, where they rented small cottages they used as studios, in the area now known as Tlaquepaque, from Wilhelm Smith. This was a time of enormous artistic output in Sedona. Over the decades Tanning's oeuvre expanded to include etchings, aquatints, lithography, book illustration, writing, soft sculpture, costume and set design. The Tate Modern held a retrospective of her artwork in 2019, which included 100 artworks spanning seven decades.  
Wilhelm Smith was among the first Anglo women to visit and paint many remote areas of Northern Arizona. She is best known for illustrating famed western author Zane Grey's numerous novels. Considered a child prodigy, she was accepted into the New York Art Students League at the age of 12 and acquired property in Sedona in 1937. Her paintings of the sweeping panoramas of Arizona and the Hopi and Navajo people have been exhibited at several museums in Arizona, as well as exhibitions in Taos, N.M., California and across the United States. Wilhelm Smith also created unique dinnerware designs influenced by Hopi motifs, that were mass produced in this country.
McInnis has oil paintings on display. She was a fine arts major at Syracuse University, but didn't begin art lessons until 2011 at Sedona Arts Center, studying primarily under Gretchen Lopez. Even though it took decades to put paint to canvas, McInnis became involved in the arts since her move to Sedona in 1991. She established Sedona Art Tours, was president for the Red Rock Arts Council, was chairwoman for the Sedona Sculpture Walk, was president of the Arizona Opera League of Northern Arizona and was on the board of the Sedona Arts Center. McInnis was also an associate member of the Sedona Gallery Association and vice chair of the Sedona Art Museum, until she passed away in October 2020.
Jordan, Jacque Jordan Jackson's aunt, has oil paintings on display. She began drawing as a young girl and experimented painting on canvas in the 1940s. Her passion grew into still life, sculpture, portraits, florals, and especially oil landscapes, watercolor, ink pastels and charcoals. Jordan would venture out to the Sedona landscape to sketch and paint. Her journals were full of colored pencil notes and sketches that later would be developed into art work. For years, local artists would paint in her studio and have a potluck meal. The family's fruit packing shed is now the Sedona Arts Center, which began supporting the local art colony back in the 1950s.
More information
For more information on the City Hall Art Rotation Program or to make a private appointment, please contact Lattanzi at 928-203-5078 or NLattanzi@SedonaAZ.gov.