Sedona AZ (January 10, 2013) – Heart Wisdom Journeys is pleased to announce a powerful ceremonial gathering with Peruvian Shaman Jorge Delgado, Havasupai Medicine Man Uqualla and Adam Yellowbird to open the 2013 Gift In Shift Conference on Thursday, February 14, 2013, 7:00 – 9:00 pm, at the Sedona Creative Life Center, 333 Schnebly Hill Road.
Jorge Luis Delgado is a recognized teacher of Incan spirituality and an experienced mountain guide. He has been invited to the United States, Canada, Belgium, the Netherlands and Turkey to lecture on Incan wisdom and culture and its meaning in our lives today. Jorge Luis is an indigenous Peruvian of Aymara heritage who has worked as a tour guide in the Sacred Valley and around Machu Picchu and Lake Titicaca for more than twenty years.
Medicine man, sage, storyteller, wisdom keeper and priest, Uqualla is a member of the Havasupi Tribe (people of the blue-green waters), who live in the most beautiful and remote areas of the western Grand Canyon. Eons of ancestors have brought wisdom and teachings still relevant for the present times and people.
A visionary and spiritual leader, Adam Yellowbird is the founder of the Global Earth Dance Gathering, which has brought thousands of people together of all colors, races, and spiritual backgrounds to celebrate and dance around the world. He asks the help of all people to wake up and listen to their heart, the Holy Spirit, and bring out what has been hidden away for eons within one's being.
Tickets: $20 at the door or pre-purchase. See info below. (Ticket is included in the 4-day Conference Pass. )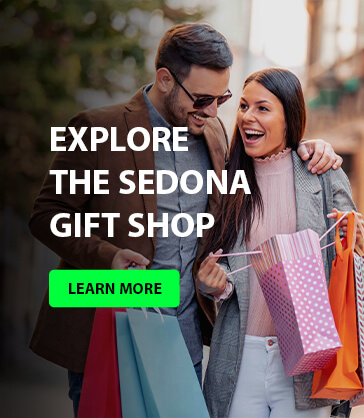 CONFERENCE SCHEDULE:
Friday, February 15, 7:00 – 9:00 pm and Saturday, February 16, 9:00 am – 5:00 pm
Gregg Braden –  Convergence: Thriving in the World's Perfect Storm
New York Times best-selling author Gregg Braden returns to Sedona to explore the changing world and its potential effects on our lives as he melds science and spirituality.
Saturday night concert with Martha Reich
Sunday, February 17
Spend all day with Sedona's most renowned authors, teachers and workshop leaders !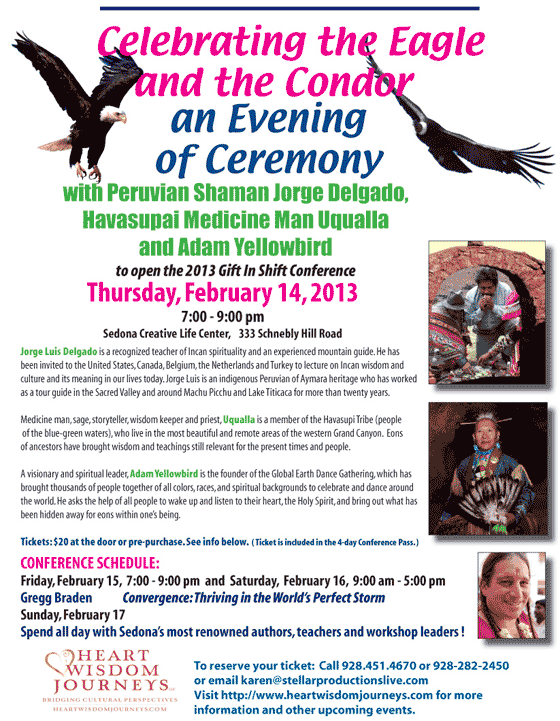 For more information, call Karen Koebnick at 928.451.4670 or 928-282-2450 or email karen@stellarproductionslive.com
Visit for more information and other upcoming events.