By Anne Marie Mackler, Development Director
Sedona AZ (June 22, 2018) – It's our anniversary year, and celebrations continue at Sedona Public Library commemorating the "Jewel of Sedona" and 60 years of service. The themes of jewels, gems, rocks, and the 60s keep finding their way into our programs. The summer is chock full of fun, and we have more exciting programs and projects planned for the rest of the year. Read on!
With a theme like "Libraries Rock" our Summer Reading Program offers loads of "60s" and "rock" based activities for readers of all ages. Our adult program launched this month with a celebration of 60s rock & roll music, dance, and books.
There's still time to read "Girls Like Us," by Sheila Wellers for next month's book discussion (July 18 at 2:00 p.m.). The biography explores the lives of three women rock & rollers who launched careers in the 60s. Learn more about this and other activities by visiting our website and join us for the City of Sedona concert on Friday, June 22, at the Posse Grounds Pavilion.
Local kids are rocking for our anniversary, too! It was a treat to celebrate "The Jewel of Sedona" at a Gem and Mineral Club event. Children's eyes glistened like the sparkling stones in front of them. Now, for extra fun, children and youth who meet their reading goals can reach into 'Mr. Boulder' and pull out their own collection of gems. They can also play "Win It in a Minute" 60-second physical challenges, on Game Day, June 22, at 1 p.m.
Beyond summer reading, we're thinking about summer writing! Writers take note; the Library is hosting a 60th anniversary writing contest. In July we will launch an opportunity for writers young and old to submit their best work and win prizes. The theme? Well, 60 of course! No matter how you tie in the theme, the number 60 must be part of the writing you submit. Start consulting your muse, and watch for details on our website and social media.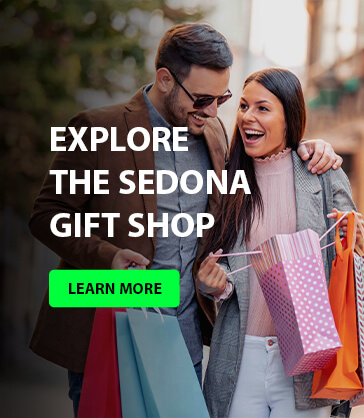 The year's half over, but we're not finished celebrating yet. What would a Sedona celebration be without great flix! This fall several of our free Monday Night Movies will feature films made in Sedona around the time of the Library's founding, 1958. Don't miss the opportunity to watch free classics!
If you haven't driven down Dry Creek Road recently, please do! We're showing off our new sign on the corner. The metal and stone structure reflects our beautiful facility and shows off our new logo. More importantly, it provides another level of great service: we've made it easier for locals, newcomers, or visitors to find their way to us. Check it out!
We still need your input! The library is 60 years old, and our building is 25 years old. And as anyone knows, 25 years — and approximately 200,000 visits a year – makes for a lot of wear and tear. We have some ideas for upgrades and modernizations, but before we make improvements, we'd love to hear from you! How can your library building serve you even better? Let us know.
Speaking of the future, in the fall area children will help bury a time capsule containing Library mementos. These contents will provide a glimpse of life in Sedona, as well as what your Library has offered for 60 years. When it is opened in 2058 to celebrate the 100th anniversary, what will they think of our technology, services and programs? I, for one, hope to still be around to find out. Can't wait!
Help us celebrate YOUR library! Come on in, you never know what you'll find at Sedona Public Library!