Sedona AZ (January 30, 2017) – The Collective Sedona, a mixed-use lifestyle and entertainment venue in Sedona, is proud to announce their line-up of exciting events happening this February including live stage productions, a special animal sanctuary show and community-focused events. 
On Saturday, February 11th, the Sedona Red Rock Appella will be putting on a musical performance, just in time for Valentine's Day, upstairs in Vista Hall at The Collective Sedona. This musical production will feature solos, duets, quartets and a chorus choir singing musical tributes to love and romance. Tickets for $15 can be purchased at the door, which includes one beverage and hors d'oeuvres. Doors open at 4:00 pm and the show begins at 5:00pm. 
That same evening, The Collective Sedona will be putting on their monthly Second Saturday Art Walk. This community event has been hugely popular and grows in attendance each month. Festivities will go on from 5:00 to 9:00 pm and will include chocolate samplings and chocolates for sale from three of Sedona's most popular chocolate purveyor's, Chocolatree, Sedona Sweets and Chocolita. Other fun activities happening during the event include chair massages and salt room sessions by Sedona Health Spa, a chocolate fountain at Bearcloud Gallery, therapeutic sound healing sessions by Raven's Call Healing Center, angel readings and kissing aura photos by Angel Lightfeather, vedic astrology readings by Sedona Vortex Center and live music, light bites and refreshments offered by individual shops throughout The Collective Sedona. Additionally, their will be a door prize drawing with fantastic prizes including a free dinner for two from Serenitie Restaurant, two free tickets to see the Love Letters stage production, a gift certificate from J Wine Bistro, a wine tour from Sedona Delivers and more! 
On Tuesday, February 14th, there will be a special Valentine's Day Dinner & Theater production of Love Letters in Vista Hall at the Collective Sedona. Enjoy a prix fix menu and a show for only $125 per couple. It's one of the most affordable romantic evenings you'll ever spend! Dinner starts at 4:30 at J Wine Bistro and the show will begin at 7:00 pm. Dinner and Show Tickets can be purchased at J Wine Bistro. For Show tickets only, visit the Sedona Village Welcome Center at The Collective Sedona. Cost is $25 for adults and $20 for seniors.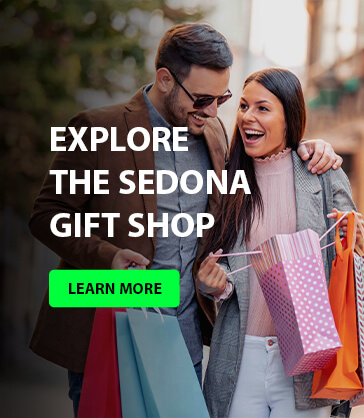 On Sunday, February 19th, Bearcloud Gallery and Native Cultual Center at The Collective Sedona will present an Afternoon with Birds of Prey. This family-friendly and interactive animal show will take place from 1:30 to 3:00 pm. Runnin' W Ranch, a non-profit sanctuary, is providing the animals for the event and will discuss recovery and animal preservation for injured and dislocated native birds and small mammals throughout the Verde Valley.
With an eclectic mix of shops and restaurants, convenient location, incredible views, celebration of arts and culture, promotion of health and wellness and a genuine investment in the community and it's residents, The Collective Sedona is a world-class destination in the most beautiful place on Earth.