By the Red Rose Inspiration For Animals Team
Sedona AZ (February 28, 2016) – With the 2016 spring season, we will be entering our 7th year of art shows dedicated solely to fundraising for animal rescue; Red Rose Inspiration for Animals, a 501c3 nonprofit, founded in Sedona and inspired by a rescue dog, Rosey. 
From our humble beginnings until now, we have always been focused on producing small, quality art and craft shows in West Sedona to serve our community. The shows promote a variety of talented artists, some of whom only participate exclusively in these shows.  All funds raised make a measurable difference in the lives of animals' in-need…all through the support of loyal-locals and visitors in the area attending our shows or shopping our stores.
March 5th/6th kicks off our very first Art and Craft Show of the year, additional show dates this season are the following: March 12th/13th , April 9th/10th  and May 7th /8th .
The first show features a dynamic-duo:  Sage Winds Studios and the Crimson Fairy.
Pattie Hodel the artist of Sage Winds Studios says, "Whether I'm working with oils, clay, stones, glass or reed… it's a personal creative process which energizes and grounds me at the same time."     Being an artist is not a hobby for Pattie, it's a calling to her passion.   It allows her to visually interpret the world by using her hands, mind and materials to create art.   As a potter, she specializes in hand-built, unique, one-of-a-kind pieces. 
The other half of the duo, the Crimson Fairy as jewelry artist Karen Hammer.  Karen's love of nature, energies, bright colors and all things 'winged'… inspires her to create her unique pieces with magical charm.  Karen's work includes fused dichroic glass and more metaphysically themed glass pieces such as her Prayer Fairies and Goddesses. Some of Karen's larger pieces hang in the Arizona Attorney General's office and the Colorado River Indian Tribes' Tribal Library.   Karen continues to explore different ways to use her glass and beads to create her Dragonflies, Hummingbirds, Butterflies, Fairies and more.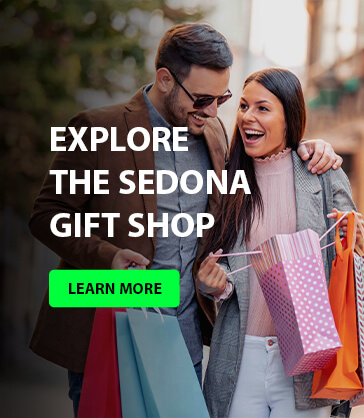 Both display exclusively at the Red Rose Art Shows.  Some of their work can be found in galleries and shops around town but this is your only opportunity to meet them in-person and purchase their inspirational pieces directly from them.    
Beyond our Art Shows, you would also know Red Rose from our unique venture combining quality thrift and an artist boutique, Red Rose Thriftique, located in the Bell Rock Plaza here in the VOC. 
 A year later, in August 2015 we opened our pop-up store called Red Rose Re-Tails Thrift at 841 S. Main Street in Cottonwood.
The Art Shows and our two stores support our local community through a repertoire of programs that serve the needs of animal welfare, rescue and the people who love them…or come to love them.
Red Rose Inspiration for Animals Art and Craft Shows are not affiliated with any other shows or promoters and take place exclusively at the Olde Sedona Bar and Grill located at 1405 West Hwy 89A in West Sedona from 10:00 am to 5:00 pm.