By Virginia Volkman, Library Director
Sedona AZ (July 15, 2016) – Sedona Public Library is happy to report that we have experienced another exciting year of growth and transition. We are grateful to this community for the continued support of our services and programs. As a mission-driven non-profit organization we are proud to serve the greater Sedona region as an outstanding community center enhancing the lives of our residents and visitors. Thank you for your support and patronage, and if you haven't been by for a while, stop in and see what's new.
This Year's Highlights and Accomplishments
Sedona Public Library was nationally recognized by Library Journal as a Star Rated Library for the second year in a row.  Only four libraries in Arizona received this distinction, based on the number of people who use the library, programs and services offered, and community size. We offered more than 800 programs last year.
We are unique in Northern Arizona by offering "The Culture Pass Program," for the second year in a row giving cardholders free admission to museums and cultural institutions across the state. This year we welcomed Halle Heart Children's Museum to the program.                  
In an effort to keep you informed, we published the second edition of "Check It Out," our official magazine. "Check It Out" reached over 11,000 residents of Sedona and the Village of Oak Creek. This colorful and informative magazine is also available online.
The Sedona Public Library received an Arizona Community Foundation of Sedona grant to purchase a self-service touch-screen Library Document Station. This faxing and scanning service is now available to our patrons.
We also received an Arizona State Library grant for technical assistance and software to support a Library Code Club for kids aged 8 and up. Teen volunteers helped plan and present this innovative program.
We were proud to participate in last year's Tlaquepaque's Festival of Trees. We received a donation of $2,000 as a beneficiary, and our volunteer, Robin Fanelli, created a beautiful tree for the event, based on the book "The Giving Tree."
SPL proudly showed off the final new look for our Children's Room, including movable shelving and an interactive, early literacy skill-building play area. This upgrade adds an even brighter tone to this space for the children, youth and families of our community.
Rotary Club of Sedona began an innovative program supporting our youth book collection. Each guest speaker is presented a brand new book which will be donated to the Library in their name. A tremendous way to be thanked and remembered.
Also in cooperation with Rotary Club of Sedona, the Library hosted the beautiful display "The Slide Story: A Photographic Tribute to Oak Creek Canyon."
Our annual Verde Valley Weavers and Spinners Guild display added a new element this year, just for children. "Spinning Stories" featured spinners and weavers who gave demonstrations in our lobby, and staff offered educational presentations in the children's room.
We offered three new services to the Latino community. Representatives from the Consulate General of Mexico in Phoenix provided consular services; a volunteer translator was available at our health screening events; and we hosted a domestic violence forum in Spanish in cooperation with Verde Valley Sanctuary.  We also offered English as Second Language classes, computer classes, an immigration forum, and immigration consultation services.
Youth Services implemented a tremendous community outreach plan broadening awareness about our services for children, youth and families. This included Head Start classes and several preschools. We initiated a service for Head Start homebased families with a once-a-month program introducing parents to the Library. Staff participated in events at Big Park Community School, Sedona Charter School, and West Sedona School where we now visit a special needs class twice a month.
The Library participated in the City of Sedona's Celebration of Spring event. We partnered with the Rotary Club of Sedona to promote the Imagination Library program and provided activities and books and bilingual information about our services.
SPL has expanded our subscription to TumbleBooks through a school/library partnership and now offer Big Park, West Sedona, and Sedona Charter schools the online e-book collection including animated talking picture and chapter books.
We initiated a new service offering 30-minute, one-on-one Tech Tutoring sessions.
We again celebrated "Library Card Sign-Up Month" in September and offered special library hours on Sunday when adults could join the "Coffee, Cookies, and Coloring" event.
Celebrations continued in February with "Love Your Library Month" and patrons proudly donned the "Love Your Library" button to promote our services and programs.  We presented at the February Sedona City Council meeting and detailed the breadth and depth of our services and programs. Additionally, we hosted 125 visitors at an "Open House" at SPL in the Village at our new location in Bell Rock Plaza.
Our fiscal year ended on May 31, and we are once again offering exciting programs and services for our community in the new fiscal year. We could not succeed as your public library without the involvement and commitment of this community, the passion and dedication of our staff and board, and needless to say, the 16,000 hours of volunteer time we received last year.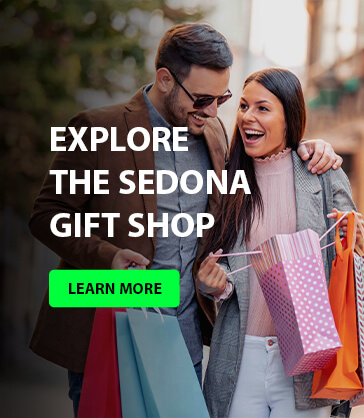 The Sedona Public Library is a 501(c)(3) nonprofit organization. We are grateful for the support of the City of Sedona, Yavapai and Coconino Counties, businesses and foundations, and individuals like you.
Please support your public library and send your tax-deductible donation to: Sedona Public Library, 3250 White Bear Road, Sedona, AZ 86336 or visit our website to donate online via PayPal at www.sedonalibrary.org