By Patricia Lowell, Reference Librarian
Sedona AZ (June 19, 2015) – Sedona Public Library has some very special items in our building that you might not know about.  
For example, a unique feature is the striking geology pillar, which was constructed by Paul Lindberg, our world-renowned local geologist, showing and naming each stratum. The names roll trippingly off the tongue and evoke images of how the land here in Sedona was formed:  Hermit Formation, Supai Formation, Redwall Limestone. You can almost see the layers being formed. Look out the window by the pillar and see all the strata in the distant mountains. Amazing!  See if you can name them yourself (and it's okay to use the pillar as your cheat sheet).
The pillar is in the southeast corner of the Library and a small plaque on the side of it explains why our rocks are red. It reads: "Small amounts of red iron oxide, the mineral hematite, give the sediments their color. Ancient distant highlands eroded and intermittent desert streams carried the oxidized sediments to be deposited."
Located to the left of the geology pillar is a mixed-media piece by former Sedona resident Karen Licher, made of found objects from the February 19, 1993, flood.  I was at the "old library" on Jordan Road during this flood, and we walked down to the former bridge at Tlaquepaque to see waves crashing over it! When the floodwaters receded, the artist picked up the pieces of flotsam and jetsam that were strewn around and incorporated them into her triptych. Look closely and see driftwood, metal pieces, bits of screen, glass, computer insides, VHS tape, and an adorable ceramic paprika sprinkler. See what else you can identify.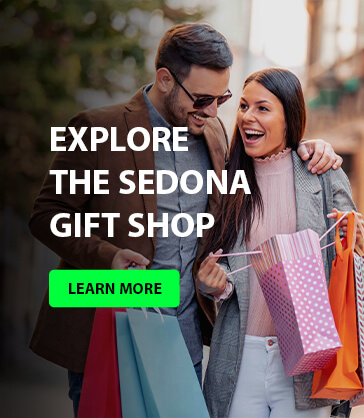 As you approach the Library's front entrance, you'll see several sculptures—have you noticed the one on the porch between the benches is missing? This artwork has been removed temporarily for refurbishing. Entitled "OF FEARS AND DREAMS: America's Priorities Revisited," it has an interesting background story. It was created by Nancy Robb Dunst and five of the first graduating students from Red Rock High School, all of whom went on to art colleges. As part of the sculpture, they created a character to represent the students—with each limb of the character standing for an American priority:  love, health, environment, education, and peace. The students incorporated found objects into the sculpture that they felt represented their subject. All students and teachers who wanted to add something to the project were allowed to contribute to the torso, so that the whole school could participate.
Next time you are at the Library, take a close look around you. Even if you have been here many times, you might discover something new!
Sedona Public Library is a private, 501(c)(3) non-profit corporation, supported by donations and grants. Your tax-deductible donation may be sent to: Sedona Public Library, 3250 White Bear Road, Sedona, AZ 86336.