6000 Luminarias and Fabulous Holiday Music
Sedona AZ (December 2, 2011) – For almost 40 years visitors from far and wide have come together with Sedona's families and friends to light thousands of luminarias in the beautiful Spanish-style Tlaquepaque Art & Crafts Village. One of Sedona's and Northern Arizona's most popular events, The Festival of Lights, kicks off on Friday, December 9, 2011, from 4 to 7 pm with a free performance by lead singers from the River of Life Tabernacle Choir, Ron Tolson and Bryan Pace.
"Their resounding concert of sacred hymns and holiday music in the Chapel will put everyone in high spirits for the holidays," said Wendy Lippman, Tlaquepaque General Manager and Resident Partner. "Everyone can enjoy the concert Friday night and then come back to hear the entire choir perform Saturday and help light the Luminarias."
The main event starts Saturday, December 10th at 3pm with the arrival of Santa and his elves in Patio Del Norte. (Santa will be greeting children until 5:30). Consummate entertainers, Tom and Shondra, will wow you with holiday favorites sung with passion and good cheer. Then shortly after the tolling of the Chapel bells at 5 pm, everything stops and the lighting of the luminarias begins.
"The lighting of the luminarias is really wonderful to behold. Everyone lights their candles by passing a flame from candle to candle and then lighting candles in the luminaria bags. It's a sea of smiles and quick teamwork. Within a few minutes the 6,000 luminarias are lit," reports Lippman. It's a magical celebration and a tradition like no other in Sedona, bringing a festive radiance to the village and a heartwarming glow to all who attend.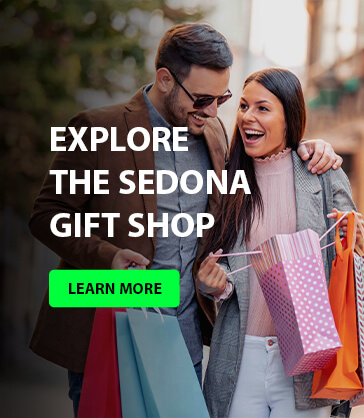 A more solemn aspect of the celebration is the remembering of loved ones lost to cancer. As in years past, luminaria bags are sponsored for $10. Names and messages are written on the bags and placed around the fountain at Patio del Norte. "For a number of years we have taken time to remember those no longer with us. It is a very moving experience watching loved ones write a message on their luminarias. Whatever funds are collected are donated the American Cancer Society for cancer research," says Lippman.
During the Festival of Lights, Tlaquepaque resounds with uplifting performances of traditional holiday music. There is always something for everyone! Festival headliner and show-stopping favorite, the River of Life Tabernacle Choir, performs an over-the-top, riveting songfest from 5:30 to 7:30 pm in Plaza del Fuente. If you have never seen this high-energy, passionate choir comprised of dozens of members, do not miss their show and assemble early to get a good view!
Entertainment Line-Up
3:00 – 5:00 pm, local guitarists Brian David and Joel Rieck in the Chapel
3:00 – 5:30 pm Latin Rhythm, featuring Andres Martinez delivering vibrant sounds of Salsa, Cumbia, Cha Cha, and Jazz. Patio las Campanas
5:30 – 7:30 pm, Festival headliner the River of Life Tabernacle Choir with uplifting and inspiring holiday music in Plaza del Fuente.
5:30 to 8:00 pm, local phenom Sammy Davis will get you dancing with his heart pounding, foot stomping, rockin' holiday tunes, on stage in Patio del Norte
6:00 – 8: 00 pm, Steve Douglas of ZAZU Trio and their gypsy jazz interpretations take place in Patio las Campanas
6:00 – 8: 00 pm, well-known local group Meadowlark performs their beautiful sounds in the Chapel from 5:30 to 8:00 pm.
Admission to the Festival of Lights is free. The Sedona Trolley will provide complimentary shuttle service every 15 minutes from 3 to 9 p.m. with pick-up and drop-off in the Uptown Municipal Parking Lot. The Art and Soul of Sedona, Tlaquepaque is the home to world-class shops, galleries and four restaurants. For more information, please contact Tlaquepaque at (928) 282-4838 or www.tlaq.com, and shop online at www.shoptlaq.com.