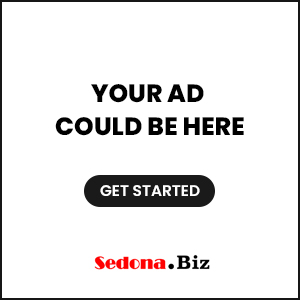 Sedona AZ (October 1, 2013) – The Sedona Arts Festival celebrates its 23rd anniversary from 9 a.m. to 4 p.m., Saturday and Sunday, Oct. 12 and 13 at Sedona Red Rock High School, 995 Upper Red Rock Loop Road. Local favorite William Eaton will headline the festival. Other performers include Eric Williams, David Vincent Mills, Tim Dismang, Jake Payne, Alexander McFee and Daren Burns.
William Eaton is acknowledged as one of the world's great designers of stringed instruments. His innovative multi-stringed instruments and harp guitars have appeared in exhibits, magazines, books and posters. He built his first guitar in 1971, and went on to co-found the Roberto-Venn School of Luthiery, where he has served as a teacher and administrator for over 35 years, and as the school's director for the past 20 years. A four-time Grammy Nominee, Eaton has composed for and performed with the Amadeaus Trio, Nouveau West Chamber Orchestra and the Nebraska Chamber Orchestra, and has performed as a soloist, with the Electric Harp Guitar Group, Ananeah, and the Nakai, Eaton, Clipman Trio. Eaton's unique and original sound has been captured on 16 recordings for the Canyon Records label including his long time collaborations with R. Carlos Nakai and four recordings as the leader of the William Eaton Ensemble: an eclectic "world chamber fusion" group whose releases have earned Billboard Critic's Choice awards as well as charting in the top ten World album category. William and his wife Christine are co-directors of Old Town Center for the Arts, a renovated historic building complex in Cottonwood, Arizona, dedicated to bringing national and regional performing artists to the Verde Valley. William will perform both days of the festival, Saturday and Sunday at 1pm.
Eric Williams is a sought after pianist, vocalist and guitarist who plays a wide variety of songs and several other instruments, including saxophone, harmonica, dobro, and others. Eric earned a music degree at Slippery Rock University and a Masters Degree in Music at Youngstown State University. He has been a college music professor as well as a private piano, voice, guitar and sax teacher for over 25 years. His love of performing, as well as teaching music, has opened many doors, and his versatility with so many different instruments and styles of music keeps him busy doing what he loves: "Sharing the joy of music."
Daren Burns, fretted and fret-less electric bass player, composer, and improviser whose musical interest lies in the area of improvisation, integration of musical styles, superimposition of metric and non-metric musical phrases, and how to make new systems for developing improvisation. In the past few years he has also become interested in North and South Indian rhythmic and melodic systems. He started Urban Nerds Records in 2009 and has since released 5 titles including one with Pulitzer finalist and downbeat composer of the year for 2013, Wadada Leo Smith. The most recent is with his band Onibaba entitled "Disintegration of Secrets/Apparitions of Kings" with veteran woodwind player Vinny Golia.
Alexander McFee has 8 albums that have received airplay worldwide on satellite radio, internet and cable stations and sold tens of thousands of CDs and downloads. His latest album is "Global Blending", songs about the things that unite rather than divide people and celebrates the freedom of communication and creativity. Says one admirer, "Alexander sings original songs of the wild extremes of human life, in unique and memorable ways."
Pianist David Vincent Mills will perform his renditions of timeless classics from the genres of pop, rock, and jazz. Mills will sooth your soul with sensitive ballads, foot tapping blues, and rocking feel-good tunes that everyone will love.
These musicians will perform among more than 125 juried artists from across the country. Come out to enjoy the music and surround yourself with Sedona's breathtaking red rocks and Arizona's magnificent fall weather, while viewing works in ceramics, drawing, fiber art, glass, jewelry, metal, mixed media, painting, photography, and sculpture. International guests, Julia Fuentes and Jose Juan Melchor from Oaxaca, Mexico, will be featured in the Guest Gallery with their stunning wood carvings.
In addition, the Gourmet Gallery offers homemade products for your home, kitchen, and bath. KidZone provides arts projects for kids 12 and under. Great food, raffle prizes, and a few other surprises are all part of this great fall weekend.
Admission is $10 for adults, $9 for seniors 60 and older and students with ID. Discount tickets are available online. Children 12 and under are free. Admission supports SAF's scholarships and grants program which provides financial support to art education in Sedona and the greater Verde Valley.
For information, visit www.sedonaartsfestival.org or call 928-204-9456.