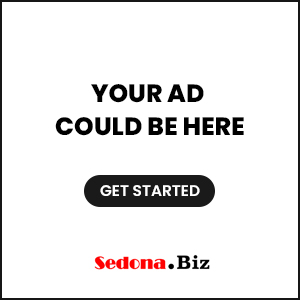 By Elizabeth Cate, Collection Development Librarian
Sedona AZ (February 13, 2015) – February is a busy month at Sedona Library, with displays, classes, speaker programs, topical discussions, Monday night movies, and more on the calendar. Stop by the Library to take advantage of our many free programs, including these select events and services:
Once again, the Library is cooperating with the AARP Foundation to offer tax help.  AARP Tax-Aide is a program that provides free tax help for taxpayers, with special attention to those who are 60 and older.  Trained volunteers will be available to prepare returns and answer questions in the Library's Si Birch Community Room on Tuesdays, Thursdays, and Saturdays from 10 a.m. to 2 p.m. through April 14.  This free service is offered on a first-come, first-service basis. For more information on what to bring with you, visit the website www.aarp.org/taxaide. 
The Library stocks federal tax forms 1040, 1040A, and 1040EZ. Due to budget cutbacks, the IRS will not be sending us 1040 instruction booklets and other commonly used forms they provided in the past. We have printed out several copies of the 1040 booklet, which are available at the reference desk for you to look at or copy. We also have Publication 17 and Arizona state forms at the reference desk available to copy. We are happy to print any forms that you need, for a charge of 10 cents per page.
On Monday, February 16, plan to attend "Swing into History:  Popular Music of the Big Band Era," with Erik Larson. This free Arizona Humanities program will be featured at 1:30 p.m. at Sedona Winds, and a repeat performance will be held at the Library on White Bear Road at 6 p.m. Join Larson as he revisits the sounds that America listened and danced to for more than three decades.  Learn how iconic artists like Bing Crosby and Ella Fitzgerald first got their start, along with fellow vocalists, composers, and musicians.  And, enjoy the real thing, as Larson plays from his personal collection of recordings and shares sheet music, posters, and postcards from the era.
This month's Coffee with a Vet event, on February 20 from 10 a.m. to noon in the community room, will feature an appearance by Steve Snyder, author of the World War II history book "Shot Down." Snyder will share the experiences of his father and the other crew members of a B-17 that was shot down over Belgium after a bombing mission. Everyone is welcome to attend this free program, organized by the volunteers of the Veterans History Project.
Sedona Public Library is a 501(c)(3) non-profit corporation. The land on which our beautiful library sits was donated, and the library building was constructed with private funds and is entirely debt-free. Donations and grants allow us to continue to offer free and innovative services to residents and visitors. Your tax-deductible donation may be sent to: Sedona Public Library, 3250 White Bear Road, Sedona, AZ 86336.