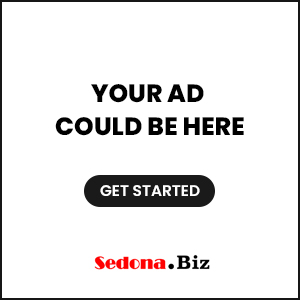 By Ted Grussing
… one of my favorite photos is of a late day shot of the peaks pinked up by the setting sun. It was taken in February of this year and there was a nice frosting on the trees in the forest and snow on the peaks. Somehow I managed to delete the original image and only have some smaller crops left; this is the photo that is next to last in the Omnipotent video I just finished. So late afternoon today I made the flight, dropped down to about 750' above tree level and took some shots that really were not that great (deleted), climbed up to about 2000'above the terrain and got a few I liked, but not replacements for the one I wanted. Oh well, there are more days and more flights to come.
In the lower left you have Rogers Lake filled mostly with shadows and on the right side of the image is Flagstaff … above Flagstaff is Mt. Elden and to the left of that are the San Francisco Peaks … I still like to visualize it as 6,000 feet higher before the eruption about a million years ago took it down. As it is the peaks rise about 5600 feet above Flagstaff … imagine twice that.
If you have not viewed the video yet it will be up for quite a while. The video is embedded in my blog on https://sedona.biz (thank you Steve and Suzan). They do a great job promoting all things Sedona so check their site out.
After being with Pandora since its inception I dropped my subscription this week and removed the app from my mobile devices. As an Amazon Prime member I get their music for free and it was just a matter of adjusting to a new format and I get many more options and a richer selection of music. Lots of small changes underway and enjoying them … been listening to Pink all evening … great sound!
Time to wrap the day and another busy one underway after a few hours of sleep … actually I think I will have a lazy morning and get five hours tonight :+)
Life is wonderful … beats the alternative too :+) Keep breathing and smiling.
Cheers
Ted
I dissipate the thought in these scribblings, to save myself;
therefore I plunge into the sea of daily duty, to forget the
lure of the abyss of perfect knowledge, and to live and
laugh again.
— Max Ehrmann
###
The easiest way to reach Mr. Grussing is by email: ted@tedgrussing.com
In addition to sales of photographs already taken Ted does special shoots for patrons on request and also does air-to-air photography for those who want photographs of their airplanes in flight. All special photographic sessions are billed on an hourly basis.
Ted also does one-on-one workshops for those interested in learning the techniques he uses.  By special arrangement Ted will do one-on-one aerial photography workshops which will include actual photo sessions in the air.