Sedona AZ (December 15, 2013) – Tlaquepaque Arts & Crafts Village, beautifully adorned for the season, presents its first annual Holiday Sweet Stroll. Enjoy sparkling lights, the bygone aroma of roasting chestnuts and strolling carolers to help release your inner shopper! Lots of goodies to savor and munch on will be handed out freely so everyone has the energy to complete their holiday shopping lists. Experience non-stop holiday cheer, Friday and Saturday, December 20 and 21, 2013 from 3 pm. to 7 pm. Admission is free.
Delight in sumptuous sweet treats, special give-a-ways, and seasonal store offers, generously prepared for you by some of Sedona's finest boutiques, world-class galleries and popular restaurants. "Holiday Sweet Stroll is a great time to experience Tlaquepaque in its holiday finery. Visit our shops and galleries, or stop in for a delicious dinner at one of our fine restaurants, and receive discounts and gifts along the way," says Wendy Lippman, resident partner and general manager of Tlaquepaque. And, of course, a Tlaquepaque event wouldn't be complete without a fabulous holiday musical entertainment line-up to enjoy during your strolling.
Holiday Sweet Stroll Entertainment line-up
Friday:
Patio del Norte: Meadowlark; 3 to 5 pm, Canyon Singers, 5 to 5:30 pm; Electric SASS will perform Santa Baby starting at 5:30, Red Rock Appella, 6 to 7 pm.
Patio Las Campanas: Divom 4 to 7pm.
The Dicken's Carolers will stroll through the arts village delighting all from 4 to 7 p.m.
Saturday:
Patio del Norte: Meadowlark; 3 to 5 pm, Canyon Singers, 5 to 5:30 pm, Electric SASS will perform Santa Baby starting at 5:30
Patio de las Campanas: Igor the Cowboy Santa 3 to 6 pm.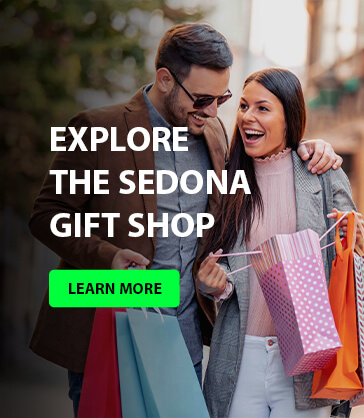 Portal Lane: Red Rock Appella 4 to 5 pm.
The Dicken's Carolers, 3 to 7 pm., strolling through the property.
For the kids there is plenty of fun, along with all the goodies. Jolly Roger the Magician will be in Patio de las Campanas wowing the crowds on Saturday from 3 – 5 pm. For a very special treat
Oak Creek Brewery will be making fresh crepe suzette in Patio del Norte.
Here is a sampling of some of the Sweet Stroll offerings by Tlaquepaque shops, galleries and restaurants. Sedona Music Boxes, a gift with purchase over $50.00; El Picaflor, items will be discounted from 10-50% throughout the store; Kuivato Glass Gallery, 20% off any item and a tray of delicious chocolates will be passed to shoppers; Environmental Realists will be having chocolate treats and giving a 10% local discount to Sedona/Verde Valley residents on any purchase during the Sweet Stroll event (excluding consignment work) ;Tlaquepaque Toy Town, all Christmas merchandise will be 30% off; Andrea Smith Gallery,  Peace Cookies will be handed out; Sylvie & Bruno, 30% off storewide and complimentary hot cider; Inner Eye Gallery will have an assortment of candy; Vom Fass Sedona will be making and demonstrating traditional egg nog with liqueurs; Cocopah will offer candy as well as three door prizes, no purchase necessary; Feliz Navidad will be offering Chocolate Kringle and Almond Raspberry Shortbread cookies from Sedona Sweet Arts; Mountain Trails Gallery will have hot cider and holiday cookies. Also a10% discount will be offered on any completed artwork purchase; Rene Restaurant the patio will be open and delectable chocolate truffles will be offered; Gallery of Wholeness Harmony and Radiance will be serving egg nog and hot Mayan chocolate both days,
special holiday treats in to-go boxes, free Honshin-created  Zen Cat 2014 Calendar with any purchase, free origami cranes for long life, good health and happiness, little gifts for kids and surprises everywhere; Eisenart Innovations will be offering homemade chocolate biscotti; El Rincon Restaurante Mexicano will have churros, hot coffee and hot chocolate for sale; Esteban's will be offering an assortment of lovely chocolates;
and Just Us Girls will have a free, no-purchase necessary raffle on a made-in-Peru, hand- crocheted hat. The raffle will take place at 7:45 pm and you do not need to be present to win.
Wendy Lippman, stewarding the vision of Tlaquepaque founder Abe Miller, who established the arts village 40 years ago this year, offers this: "May all your holiday celebrations be safe and may you have a prosperous and healthy New Year from all of us at Tlaquepaque to you."
Tlaquepaque Arts & Crafts Village is an Arizona and Southwest treasure and for 40 years has delighted visitors the world over. Located at 336 State Route 179 in Sedona, AZ., The Art and Soul of Sedona, Tlaquepaque, is the home to world-class shops, galleries and four restaurants. For more information, please contact Tlaquepaque at (928) 282-4838 or www.tlaq.com, and shop online at www.shoptlaq.com.