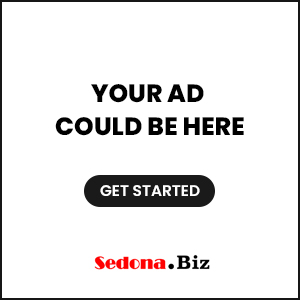 Sedona AZ (November 25, 2014) – It's that time of year when holiday mood-making kicks off with the ever-popular Sedona event: Festival of Trees at Tlaquepaque Arts & Crafts Village. With over 50 holiday trees designed by artists and craftspeople, and sponsored by galleries, restaurants, boutique and business owners, the creative bar will once again be set very high. Anticipation is building, as the soon-to-be-revealed holiday trees will be available for bidding and voting on. Proceeds will benefit Toys For Tots, ensuring that all kids have a happy holiday season.
Two changes are noteworthy for this year. The Festival has been shortened to three days and will take place from Thursday, December 4th through to Saturday, December 6th. (see the schedule below). This year all the festooned trees will be available for viewing and bidding on the Terrace above Patio del Norte. The Terrace will be tented and heated for everyone's comfort. Admission is free and everyone is encouraged to vote for his or her favorite tree starting on Thursday from 11:00 am to 7:00 pm. And for the kids, Santa will be making grand appearances on Friday and Saturday!
As in years past the generous Sedona community has stepped up not only in contributing a great deal of time and energy conceiving, designing and decorating the artful trees, but also in giving an abundant array of fantastic silent auction items for the Holiday Wrap-Up Party on Saturday from 4:30 to 6:30 pm. You'll find seasonal gift baskets brimming with goodies, art pieces, off-road adventure tours, great wines, romantic dining as well as high-value raffle items. Don't forget to get your raffle tickets early. You could win a 5-day trip to Mexico, as well as a number of high-end getaways and wonderful gift items, perfect holiday gift giving!
And be sure to cast your vote for your favorite trees even if you aren't bidding. Awards will be given in these categories: People's Choice, Most Original Theme, and Best Handcrafted/Home Spun Tree during the Holiday Party. Admission to the party is $15 per person or $25 per couple. Please call 928-282-4838 to reserve tickets. A new attraction added this year is the Toys for Tots Holiday Boutique in Patio del Norte, just below the Terrace. There you'll find many lovely gift items for friends and family.
"We so appreciate the outpouring of community support from our sponsors, " says Wendy Lippman, resident partner and general manager of Tlaquepaque. "This year proceeds from the Festival will go to Toys for Tots, sponsored by the Sedona Marine Corps League. Local kids, many of them in tough situations, are thrilled to receive their toys and appreciate the love and caring from the Sedona community this time of year. In the past we have raised over $25,000 and hope to exceed that this year because the needs are so great."
Festival of Trees schedule:
Thursday and Friday, December, 4th and 5th, Holiday trees are unveiled for viewing. Let the bidding begin!
Friday, December 5 – 3:00 pm to 6:00 pm – Photos with Santa
Saturday, December 6 – 1:00 pm to 4:00 pm – Photos with Santa
4:30 – 6:30 pm – Holiday Wrap-Up Party with silent auction items, raffles, final tree bidding, exceptional edible delights from Reds Restaurant and Tasty Libations. Entertainment by DJ Bobby Russell.Tickets $15.00 per person or $25.00 per couple
Tlaquepaque would like to thank the following sponsors for their generosity:
Sedona Monthly, Feliz Navidad, Center for the New Age, Wayne's Painting, Hoel's Indian Shop, Tlaquepaque Toy Town, Caravana, Sedona Arts Center, Sedona Recycling Center, Treasure Lore Antique Club, ShowStoppers, Eclectic Image Gallery, Village Ace Hardware, Red Rock Quilters, Vue Gallery, Sedona Pines, Honshin Fine Art, TLC Design, Junk-tion, Kealyn's Kloset, VERVE Events & Tents.
Home to more than 45 shops and galleries and four restaurants, Tlaquepaque Arts & Crafts Village, located at 336 State Route 179 at the Oak Creek Bridge, is open daily at 10:00 am. For more information call (928) 282-4838, email info@tlaq.com, or visit: www.tlaq.com and for your online Holiday shopping, www.shoptlaq.com.