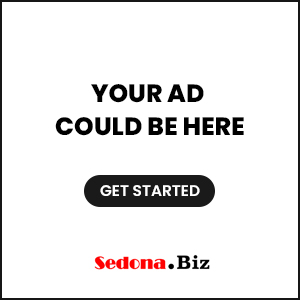 Sedona AZ (December 28, 2017) – World-renowned entertainer and New York actress Liza Vann is bringing her award-winning live one-woman show "The Top of the Bottom Half" to Sedona. There will be two performances on Saturday and Sunday, Jan. 6 and 7, on the Goldenstein Stage at the Mary D. Fisher Theatre, presented by the Sedona International Film Festival.
Hard-hitting, fast-talking, and funny, Liza Vann is the top of the bottom half. Born in the South, the seventh of twelve children, Liza has spent her life answering questions. Now she does it on stage. Not shy, Liza shares her unique perspective on life, family and relationships in an evening that will make you laugh, make you think, and make you wonder why baby-sitters aren't paid more money.
Vann addresses the most difficult of topics — including a brother's serious drug problem and her own non-traditional confrontation with breast cancer — with humor and intelligence.
One of Liza's original intentions for "The Top of the Bottom Half" was to help women "get smart about breast cancer." Liza achieves far more than this while taking her audience on a hilarious journey through the tragedies, triumphs and teachings of the seventh child. Whether Ms. Vann is giving advice on dating ("If you're not going to marry the guy after three dates, don't date him again"), raising children ("Good intentions don't count after the age of six") or dealing with cancer ("Cancer is not a gunshot wound. Both are serious, only one is urgent"), Liza's outlook on life will raise eyebrows and answer questions.
"Engaging and unexpectedly provocative!" — Geffen Playhouse
" 'The Top of the Bottom Half' is a piece that connects with everyone!" — Theatre Lab Houston
"The audience was enthralled…" — Seven Angels Theatre
ABOUT LIZA VANN
Liza Vann was introduced to New York theatre audiences when she premiered Off-Broadway in "Vox Humana #3: A Love Song" at La Mama. Most recently praised for her performance as Jean Morelli in Charles Messina's hilarious new play "A Room of My Own" with Mario Cantone and Ralph Macchio, her favorite New York credits include the "ferocious" Bree Benson in Tom Dulack's unsettling thriller "The Road to Damascus", Jack Canfora's "queen of the bon mots" Diane Greer in "Poetic License", her "feisty" performance in the "exuberant" musical revue, "Good Ol' Girls", and the "dynamic" Marietta Corsini in Richard Vetere's "Machiavelli".
A recipient of the Clarence Ross Fellowship from the American Theatre Wing, she has performed extensively in regional theater, as well as abroad, most recently as the "beautiful and talented" Vivacity Wilkes in James McLure's "exquisite" play, "Iago". Also a producer of independent feature film, Liza has provided audiences with the award-winning drama, "The Radicals", and the poignant love story, "Song of Leaves".
"The Top of the Bottom Half" is her 70-minute one-woman show which won the Silver Award in Women's Issues in April 2000 at Worldfest-Houston. As a live performance, "The Top of the Bottom Half" has crisscrossed the U.S. and Canada, making stops at theaters, universities and various organizations. Liza's performances often benefit women's health organizations, and she continues to accept limited engagements nationwide.
"The Top of the Bottom Half" will be performed live on Saturday, Jan. 6 at 7 p.m. and on Sunday, Jan. 7 at 2 p.m.
Tickets are $15 general admission and $13 for film festival members. All tickets include a meet-and-greet with Liza Vann in the lobby after the show.
Visit www.SedonaFilmFestival.org for tickets and performance information or call 928-282-1177. Both the Sedona International Film Festival Office and the Mary D. Fisher Theatre are located at 2030 W. SR 89A in West Sedona.