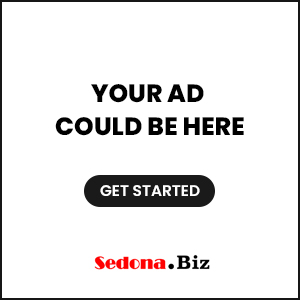 By Jennifer Perry, Development Director
Sedona AZ (November 21, 2014) – During this Thanksgiving holiday, we would like to take a moment to reflect on the true meaning of giving.  While we are all being bombarded with messages about Black Friday, Cyber Monday, and all of the shiny objects we cannot live without, the Board and staff of Sedona Public Library would like to communicate our gratitude for the continued spirit of giving the Library experiences year-round from our generous volunteers. 
As a non-profit library, Sedona Public Library benefits from approximately 17,000 hours of volunteer service each year.  Our volunteers range in age from young adults to senior citizens, and their contributions to the Library are tremendous.  They give their time, their expertise, and their friendly smiles, all for the good of our community.
Sedona Library volunteers assist with almost every aspect of library operations, including Board oversight, fundraising, shelving, check-in and check-out, indoor plant and landscape maintenance, and library programs and exhibits, to name a few.  Each of our volunteers exemplifies the spirit of giving through their selfless support.
Over the past few months, I have gotten to know a number of Sedona Public Library volunteers.  Meeting with these great people has been truly enjoyable and honestly quite humbling.  Each of them brings a wealth of experience and knowledge that they generously offer for the benefit of our community.
In August I had the distinct pleasure of having lunch with volunteers Joe and Sonya Landholm at their home in the Village. Mr. and Mrs. Landholm relocated to Sedona in 1997 from Nebraska and have been volunteering at the Library for 16 years!  Sonya currently works at the front desk, checking in returned books and organizing them on shelving carts. "I have volunteered at other places in town," says Sonya, "but continue with the Library week after week because I enjoy the people and I don't have to worry about my work when I get home." Her husband, Joe, has become a bit of a legend at the Library because he is the resident expert on book repair.  You can find Joe in the back office every Tuesday with his specialized book-mending equipment, maintaining the Library's collection.
Marlene Conklinis another Sedona Library treasure. A bundle of energy and enthusiasm, Marlene has been volunteering at Sedona Public Library for 24 years and truly epitomizes the mission of the Library.  She loves to learn and states she learns something new every day she spends at the Library.  Marlene is currently in charge of all donated books—as a former accountant, she doesn't like to see anything go to waste and works diligently to find a home for all donations, whether in the collection, in the Friends of the Library book sales, or on the free shelf.  "The Library is the heart of Sedona," says Marlene. "It is always full of life and activity."  In addition to her extensive volunteer work at the Library, Marlene also volunteers at the Museum of Northern Arizona and the Verde Valley Archaeological Society.
In July, I met two of our youth volunteers.  This was their first time volunteering at the Library, and they enjoyed their experience in the Children's Room.  They were very excited about learning about the community, and they look forward to volunteering again. Both girls, along with 18 other young teens, participated in a summer drama workshop series at the Library.  Thanks to the Friends of Sedona Library group, many teens were able to volunteer their time to offset the cost of attending the workshop.  
As Kathy Calvin, CEO of the UN Foundation, said, "The most meaningful gift we can give our children, loved ones, friends and neighbors is the commitment to work together to help build a better world."  As we celebrate Thanksgiving, we would like to offer our sincere gratitude for the community's continued support!  On behalf of the Sedona Public Library Board of Trustees and staff, we wish you a happy Thanksgiving!