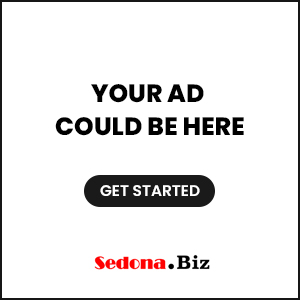 Kizuna: Sedona's True Spirit – Very Much Alive!
A Sharing with Barbara Mayer
Sedona AZ (May 2, 2012) – While those of us who live in this magical place often get caught up in ordinary city issues such as politics, the rise or fall of business success, whether our drainage system is ready for another monsoon season or making sure the trash trucks stay on schedule — one of the most important aspects of this place often remains hidden and lost behind civic or more mundane concerns.That part – one of the main reasons which draws many visitors here in the first place – is the spiritual side of Sedona. Recently, however, a very moving event not only brought the spiritual quality of this place to the level of a legitimate news story; it also brought about what many of us, as well as our visitors, seek and experience — true and meaningful healing.
Following the January murders of two visitors to the Verde Valley — Carol Raynsford and James Johnson — two of Sedona's residents organized a service which beautifully commemorated the lives of Carol and Jim. City Councilwoman Barbara Litrell and author and director of the Sedona Meditation Training Company Sarah McLean arranged a special weekend and memorial service for members of the Sedona community to join with Raynsford's and Johnson's visiting family members in a time of personal and community healing.
In that powerful service at the Church of the Red Rocks, with Rev. George Ault and Rev. Donna Cavedon leading the liturgy, Litrell and McLean joined Mayor Rob Adams, Jim Johnson's daughter, and Carol Raynsford's sister and daughter to share words of consolation and celebration of the lives of Carol and Jim. Following performances by the Church of the Red Rocks Handbell Choir and a dance presentation by Pash Galbavy and Sally Gebler, members of the Sedona and Verde Valley communities took time to share words of consolation and hope with the visiting family members in a reception after the service.
That, recorded in these brief words, is what the Sedona Scene is really all about. It's the soul of this unique land and the energy of its healing qualities of spirit and grace which touch anyone who passes through this place — or anyone who is fortunate enough to live here. After the horrendous earthquake and tsunami in Japan, their residents have begun to champion a word very dear to them. That word is kizuna, and it signifies the power of community spirit as all join in to rise above even the darkest or most deadly hours. Japan is doing that, and thanks to the many people who joined in that recent time of healing and hope, so is Sedona.
What a joy it is, indeed, to be part of this magnificent Sedona Soul!
Barbara Mayer is an Interfaith/Interspiritual minister, author, teacher and poet who resides in Sedona, Arizona. Following a six month medical hiatus, she once again brings her Sedona Scene/Sedona Soul column back to Sedona Biz.