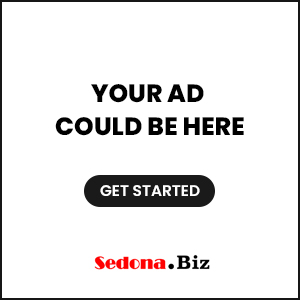 All-star cast featured in Elvis Presley musical road trip at Fisher Theatre
Sedona AZ (July 13, 2018) – The Sedona International Film Festival is proud to present the Northern Arizona premiere of the critically-acclaimed audience sensation "The King" — featuring an all-star cast — showing July 20-26 at the Mary D. Fisher Theatre.
Forty years after the death of Elvis Presley, two-time Sundance Grand Jury winner Eugene Jarecki's new film "The King" takes Presley's 1963 Rolls-Royce on a musical road trip across America.
From Memphis to New York, Las Vegas, and beyond, the journey traces the rise and fall of Elvis as a metaphor for the country he left behind. In this groundbreaking film, Jarecki paints a visionary portrait of the state of the American dream and a penetrating look at how we got here.
A diverse cast of Americans, both famous and not, join the journey, including Alec Baldwin, Rosanne Cash, Chuck D, Emmylou Harris, Ethan Hawke, Van Jones, Mike Myers, and Dan Rather, among many others.
"Poetically, we wanted the film's cast of characters to reflect the rich tapestry of the American family, expressing themselves in words and, at times, in song inside Elvis' Rolls," said filmmaker Eugene Jarecki. " 'The King' is both an Elvis film and a film about the American experience, so we chose people who could speak to either of these in a deep and authentic way."
"The King" is far more than a musical biopic; it's a penetrating portrait of America at a critical time in the nation's history and an unflinching investigation into the state of the American dream.
"The King" traces Elvis' rise and fall from the Deep South to New York, Las Vegas, and countless points between. Alongside this, the film examines America in parallel, from her auspicious founding to her own struggles with excess power up to the acute challenges of today.
"Wildly ambitious, thoroughly entertaining." — Manohla Dargis, The New York Times
"Perceptive and probing … 'The King' is for anyone who cares about where this country has been and where it's headed…The movie's final minutes come at you like a lightning bolt." — Stephanie Zacharek, Time
"By the end we're looking at Elvis, America and ourselves with new eyes." — Peter Travers, Rolling Stone
"A hunk-a, hunk-a burning zeitgeist, the kind of movie that just might shake you from your sleep at night weeks later." — Andrew Lapin, NPR
"If you think Eugene Jarecki's fascinating and provocative new documentary, 'The King', is just another biopic on Elvis Presley, you should think again." — Pete Hammond, Deadline
"The King" will be shown at the Mary D. Fisher Theatre July 20-26. Showtimes will be 4 p.m. on Friday, Saturday and Thursday, July 20, 21 and 26; and 7 p.m. on Sunday and Monday, July 22 and 23.
Tickets are $12, or $9 for Film Festival members. For tickets and more information, please call 928-282-1177. Both the theatre and film festival office are located at 2030 W. Hwy. 89A, in West Sedona. For more information, visit: www.SedonaFilmFestival.org.