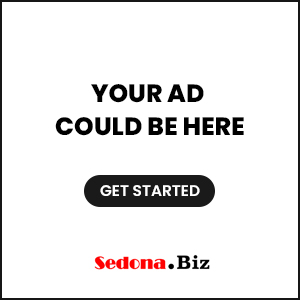 By Jon Thompson, Sedona City Councilor
Sedona AZ (February 25, 2015) – We often say that nearly all of us share a common bond because regardless of where we came from, we chose Sedona. It's a nice thought—that we are mostly a self-selected community—and it's a great icebreaker when meeting someone new. But after nine years, I've noticed that the magic of red rock fever also seems to keep working long after the moving boxes are unpacked. This environment continues to change us for the better, bringing us even closer together.
On a recent morning walk, my wife and I stopped to watch the Sedona Marathon runners approach the last hill before the finish line, which is near where we live. Gasping, flushed, and barely able to put one foot in front of the other, they seemed at any moment capable of collapsing into a heap on the pavement. And I was reminded of a thought I'd had when we first moved into our home and had witnessed a similar scene nine years earlier: Why do people travel in the dead of winter, often over great distances and at great expense, and then pay an entrance fee, to endure such obvious pain, especially when they could do the same thing for free right where they live, anytime they want?
That was the 2006 version of me talking: new to Sedona, still carrying some cynicism and self-obsession from my previous address. That was the me who resented being woken up by a bullhorn calling out runners' names and home towns, being subjected to the screeches of spectators lining my streets, and living in a city that would block off my access to the highway for an entire morning so someone could make some money off of sweaty tourists.
Today none of that bothers me. On the contrary, I look forward to the marathon each year and feel lucky that this iconic Sedona event begins and ends just a short walk from my front door.
So what changed? How did I come to appreciate something that I personally have no particular interest in? Why am I more concerned with others now and less focused on my own personal comforts? Or, to put it another way, what caused me to stop living off of Sedona and start living in Sedona?
For me, the change happened as I gradually discovered how things here are not like where I came from. I found local business owners who weren't here just to make a buck, but were often pursuing a chosen activity in retirement or as an escape from the "rat race": like a former bank executive running a bed and breakfast, or a baker who's a former CEO. I found city government to be different, too. Instead of the "I'm on my break" bureaucrats I was used to, here we have helpful city staff who clearly feel invested in keeping Sedona personal and special. Finally, the residents themselves continually surprised me with how they gave of their time and experience to an amazing number of non-profit organizations working to preserve and improve our already high quality of life. It was all so contagious. The more I engaged with Sedona, the less suspicious and self-protective I became.
Here we can seek out an ever deeper understanding of our history, economic activities, and governance, with the expectation that we will be ever more impressed and reassured. Here we can open ourselves to our neighbors and merchants and nearly always be more inspired, engaged, and comforted. In short, we can afford to trust, which is a rare and valuable gift.
Of course, Sedona is not Nirvana. Issues constantly seem to divide us. Yesterday it was incorporation, land swaps, continuous highway lighting, traffic. Today it's commercial redevelopment, destination marketing, smart meters, traffic. Tomorrow it will be something else (and probably traffic). But we are uniquely positioned for success in dealing with these issues because we are surrounded by intelligent, experienced, and engaged citizens, business people, and city employees, most of whom also chose Sedona once upon a time and, under her magical influence, continue to grow in a positive direction, just as we do. The chances are excellent that how we might influence and inform each other will bring us all up, not down. All we have to do is be open to each other and trust each other.
The opinions expressed above are mine alone and do not necessarily represent the views of the Sedona City Council or any other organization.